News
NCCAT Fall Registration Open Now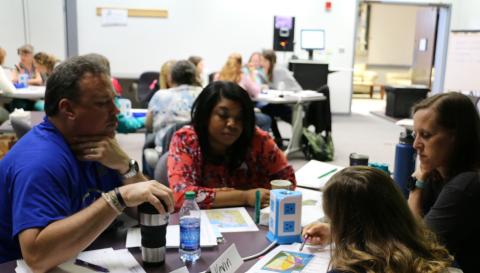 Registration for NCCAT Fall programs is now open.
CULLOWHEE—North Carolina educators have several opportunities from September through January to attend the North Carolina Center for the Advancement of Teaching (NCCAT), a recognized national leader in professional development programming for teachers.
Registration for these programs is open now. Applicants are encouraged to register as soon as possible to ensure a spot. Programs are available to North Carolina educators at the Cullowhee and Ocracoke campuses, online and with NCCAT faculty visiting school districts. For more information visit our calendar of programs.
A few of the programs being offered are:
14458 • ACHIEVING AGAINST THE ODDS: FOCUS ON READING
September 18–21: Cullowhee
Today's diverse students enter school eager to become successful in classrooms originally designed for culturally homogeneous populations and are expected to learn from teachers who are often not from the same cultural, ethnic/race or social-class. Unsurprisingly, student performance in reading and other subjects is often low while student dropout and teacher burnout rates are high. This program guides participants to explore and document their experiences in motivating at-risk students to become effective readers. In addition to sharing successful strategies for improving reading skills and producing a written narrative, participants will use several technology applications to capture their stories about students who have achieved against the odds and become motivated and skilled readers who excel academically.
14467 • MAKING MATH MEANINGFUL: ENGAGING WITH MATH THROUGH MULTIPLE INTELLIGENCES
October 9–12: Cullowhee
Designed for grades K–6 teachers.
Wondering how to engage your students as they explore and develop math understanding and mastery? You can make math meaningful for your students. Come and refresh your understanding of Howard Gardner's Theory of Multiple Intelligences (MI) as you engage in activities designed to help connect the ways your students are "smart" to the NC Math Standards. Explore and develop learning strategies to support math mastery as we look at planning for and assessing math standards for your grade level. With ideas for the self-smart and the people-smart, the naturalist, musical, verbal, kinesthetic and visual learners, you'll leave ready to start your year the MI way! This program is presented by A+ Schools of North Carolina.
14485 • READING, WRITING, AND READY BY THIRD GRADE: EARLY GRADES LITERACY INSTRUCTION
November 13–16: Ocracoke
Literacy instruction is as difficult as it is essential. This program will provide early grades teachers with a complement of research-based tools and strategies to help answer some of their more burning questions: How do I teach close reading to students who don't yet know the alphabet? What level of writing can I attain from children who are still learning to spell? How do I simultaneously provide enrichment for advanced readers and remediation for delayed readers? How can I integrate reading and writing instruction into all other subject areas? Finally, what does this instruction look like in the classroom and how are student engagement and learning measured in this process?
14489 • GOOGLE TOOLS IN SCHOOLS
December 4–7: Ocracoke
Whether or not your school or district has adopted a Google Chromebook environment, if your LEA infrastructure allows for the use of Google Tools and/or Apps, the "Googlesphere" can be an immense help. It can aid in engaging students, keeping in touch with parents, automating feedback and assessment, sharing documents, and more. Hone your skills with the Google Chrome Browser, with Google Apps, with Android Apps, and with Chrome OS so that you can engage your students using freely available tools on almost any platform.
For NCCAT's Calendar of September programs
For NCCAT's Calendar of October programs
For NCCAT's Calendar of November programs
For NCCAT's Calendar of December programs
For NCCAT's Calendar of January programs
About NCCAT
Increasing teacher effectiveness is fundamental to improving public education. NCCAT provides teachers with new knowledge, skills, teaching methods, best practices and information to take back to their classrooms. For more information about NCCAT's professional development programs, visit www.nccat.org or call 828-293-5202.