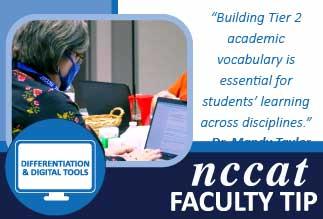 Building Tier 2 academic vocabulary is essential for students' learning across disciplines.
Use the Academic Word Finder from Achieve the Core to start identifying Tier 2 words from a sample text. 
Dr. Mandy Taylor is a Senior Content Specalist at NCCAT.  Taylor is a product of North Carolina Public Schools. She attended public schools in Jackson County before attending UNC-Chapel Hill for her undergraduate degree (Middle Grades: ELA/Social Studies), Appalachian State University for her master's degree (Curriculum & Instruction), and UNC-Greensboro for her Doctorate in Teacher Education and Development. She began her teaching career in Kings Mountain City Schools as a 6th grade Language Arts and Science teacher.  Taylor then moved to Ashe County Schools and served as Academically/Intellectually Gifted (AIG) Specialist for K-6.  After almost 15 years, Dr. Taylor joined the NC Department of Public Instruction as a Professional Development Coordinator.  In 2018, she joined Yadkin County Schools as the Middle Grades Instructional Coach and was the MTSS District Coordinator for two years.