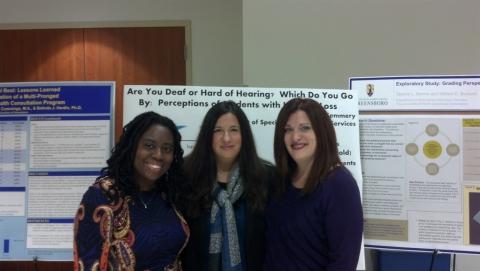 Tammy Lankford Barron, a research assistant and full-time doctoral student at the University of North Carolina at Greensboro, was chosen by the Department of Specialized Education to receive one of three Graduate Research Scholar Awards given by the School of Education at UNCG. Tammy earned an honorable mention for her study conducted last summer at the North Carolina Center for the Advancement of Teaching (NCCAT).
The inaugural UNCG School of Education Research Awards Ceremony, celebrating and honoring SOE research activity, was held on Friday, March 28, in Greensboro. Barron's exploratory study examined the beliefs, attitudes and actions teachers make when grading in co-taught classrooms. Participants included general educators and special educators with experience in co-teaching. Findings offer insight regarding the approach teachers take in grading students with disabilities, the ways in which they collaborate with others during this process and the policies that influence actions concerning grading.
"NCCAT provided the perfect setting to gain a great deal of information from a diverse set of educators working on the front lines in our schools across North Carolina," said Barron, of Salisbury. "The information learned at NCCAT drastically changed the direction of my future research strand. I was able to position my more quantitative analyses within a context of specific qualitative responses because of the cooperation of the NCCAT teacher participants who were willing to spend a bit of time with me."
Barron, whose projected graduation date is May 2015, credits the success of the study to her mentor, William Bursuck and the tremendous support of Jonathan Wade from NCCAT. The Davie County native is currently working on a study based on her time at NCCAT, a national leader in professional development for teachers.
"NCCAT is constantly seeking ways to connect with the real needs of teachers, "said Wade, the Director of Programming at NCCAT who served as Barron's site supervisor.
"Tammy's efforts with us in the summer of 2013 were a great example of how NCCAT serves as a bridge for teachers who aspire to contribute to educational scholarship in ways that will remain meaningful to teachers still in the classroom."
One of NCCAT's areas of focus is teacher leadership. NCCAT recognizes that there are a number of ways in which experienced teachers can lead while remaining in the classroom including mentoring, curriculum development and being involved in larger school and district initiatives. NCCAT assists those sorts of efforts in a number of ways including Research and Development Teams.
"Tammy's work with us represents another strand of teacher leadership—the teacher as a scholar," said Wade. "It is important that teachers have meaningful input in professional organizations and in academic work, and we're always willing to partner with teachers who want to improve education. We're so happy for Tammy. As an intern, she was always willing to engage in our work here even as she was spending hours on her own research, and it is exciting to see hard work rewarded."
NCCAT continues to welcome partners from institutions of higher learning.
Barron said working with NCCAT was enjoyable and educational. "What stood out the most during my experience at NCCAT is that this particular model of professional development allows a unique opportunity to bring together a diverse group of teachers from across the state in a single place with a common focus. I'm thankful that I had the opportunity to work with amazing teachers and a dedicated staff and faculty," she said.
Two of Barron's colleagues were also honored at the UNCG School of Education Research Awards Ceremony; Sheresa Blanchard earned an honorable mention for her work with an early childhood mental health consultation program and Megan Kemmery earned top prize for her research on perceptions of students with hearing loss.