News
Chile couple find surprise of NCCAT professional learning helpful to teaching career
276 NCCAT Drive, Cullowhee 28723
Published on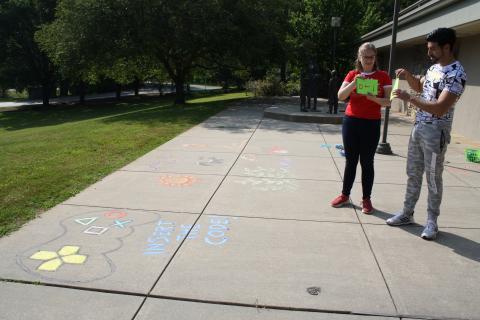 Valeska Arriagada and Felipe Santibanez of Chile are teaching in North Carolina. They along with others attended "The Physically Active Academic Classroom" in May at NCCAT Cullowhee. Teachers learned a variety of strategies for integrating instruction with physical activity into the classroom, but not at the expense of intellectual rigor. Teachers who build movement into their lesson designs will have students who are less disruptive and more engaged. A wealth of research supports the hypothesis that physical activity can boost comprehension, retention, and self-regulation in students of all achievement levels.
Valeska Arriagada and Felipe Santibanez have found much of teaching is the same in the United States since coming from Chile. The husband and wife educators found similarities dealing with students and seeing them grow in knowledge.
One thing they have found a pleasant surprise is the professional development from the North Carolina Center for the Advancement of Teaching. Arriagada, a dual language kindergarten co-teacher at Northwest Elementary School in the Davidson County Schools system, and Santibanez, a dual language kindergarten teacher at Southwood Elementary School in the Lexington City Schools system, attended "The Physically Active Academic Classroom" in Cullowhee May 24-27.
"I'm very grateful for this opportunity," Arriagada said. "Back in my country, we don't have this type of opportunity. When we found out we could come here to learn and it was more than one day we were like – wow! This being available for teachers was a surprise in a very good way. This is a great opportunity for teachers. We have learned so much and have been able to meet different teachers, too. It is a very good opportunity. Teachers should take advantage. What is done here is very useful."
Santibanez agrees NCCAT is an opportunity no teacher should miss.
"It helps teachers improve because you can learn new techniques in a great environment," he said. "When you come here to NCCAT you learn from the presenters and other teachers. It is a great opportunity."
The two Chile teachers arrived this year in the United States and have enjoyed the opportunity to work in schools. They both not only try to teach the Spanish language for children but also let them learn about the culture, too.
The South American educators found their passion in the teaching profession.
"I didn't know at first I wanted to be a teacher," Santibanez said. "I chose English teaching because it would open up doors. Along the way, I found out I liked teaching and watching students learn new things."
Arriagada's described her teaching journey: "I was an older sister, so I always enjoyed playing with little people. I enjoyed teaching them and seeing them learn things. My high school teacher was a great role model for keeping me interested in teaching as a career. I wanted to teach others the way he taught me."
As they look forward to the next adventures in their teaching careers these two educators see a visit back to NCCAT in their future.
"We have already seen a course coming about STEM that we want to attend," Santibanez said. "This is an opportunity we will tell others about and take advantage of in the future. NCCAT is great for teachers."
Are you a North Carolina educator looking for high-quality professional development? Check out our upcoming programs at NCCAT - https://www.nccat.org/programs/upcoming-programs-full-list
About NCCAT
Increasing teacher effectiveness is fundamental to improving public education. NCCAT provides teachers with new knowledge, skills, teaching methods, best practices and information to take back to their classrooms. For more information about NCCAT's professional development programs, visit www.nccat.org or call 828-293-5202.