News
NCCAT Alumna, Mountain Faith Band, and NFL Star Promote Literacy Programs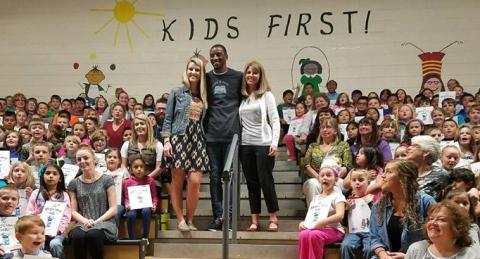 Summer McMahan, Malcolm Mitchell and Sandra McMahan take part in a literacy program at Cullowhee Valley School in Jackson County.
CULLOWHEE—Sandra McMahan has always felt a strong desire to teach and bring the joy of learning to others in any form possible.
"I taught stuffed animals as a child," McMahan said with a smile. "Nothing drives or excites me more than to see how excited a little one gets when they write their first story or begin to read on their own. It's a powerful motivation for me to find ways to encourage kids to not lose that excitement about learning."
When McMahan's powerful motivation was sparked by an idea during a program at the North Carolina Center for the Advancement of Teaching, a nationally known leader in professional development, it led to some unique collaborations that encourage reading by young students. Sandra's education career began as a reading tutor before becoming a classroom teacher. She received Elementary Education and MSA degrees from Western Carolina University.
Her children Summer and Brayden, along with husband Sam, are members of The Mountain Faith Band, which skyrocketed onto the national scene with a journey to the semifinals of the national television show "America's Got Talent" in 2015. The group's latest album "That Which Matters" debuted No. 1 on Billboard Americana-Roots Charts.
"When my family gained some national recognition from "America's Got Talent," we noticed a lot of younger kids were messaging them and stopping in to our tire shop to meet them," Sandra said. "I decided it would be nice if we located a school at each of the band's tour dates to host a mini concert. When I saw how excited the kids and teachers were to have them stop by, I started thinking about how we could leave a lasting impression, leave some lessons in literacy."
McMahan was thinking those thoughts when she attended NCCAT in April of 2016 for the program "Strengthening Instruction in Early Grades Literacy" led by NCCAT Senior Literacy Specialist Amy Jo Spencer. During the program, Spencer showed the video of a "CBS News" story about football player Malcolm Mitchell. The story described how, while a star player at the University of Georgia, Mitchell worked hard to improve his reading skills, including joining a book club of women. Mitchell's experiences led him to create a foundation to promote reading.
"I will say with all honesty, that Amy Jo Spencer and her early literacy workshop is where my idea became a reality!" McMahan said. "Amy Jo brought a lot of new ideas to light for me. One day she shared a video about football player Malcolm Mitchell and his "Read with Malcolm" foundation. I contacted the foundation to tell them that my family had been going into schools to try to encourage students. From that email we made plans to do some things together with both foundations! Had I not attended Amy Jo's workshop at NCCAT, I'm not sure that everything would have turned out as it has!"
McMahan contacted Spencer, and the two talked with the Mountain Faith Band and discussed what a program to encourage literacy would look like after it was created. The idea of a program called "I Write My Story" was born. "I Write My Story" is a literacy initiative, a 501c3 nonprofit organization, dedicated to promoting the benefits of writing among all students to ensure future successes in any career path students may choose. Students are provided a personal writing journal to encourage creativity.
"Amy Jo spent several hours with us, consistently encouraged all of us and went above and beyond the call to help get this all started," McMahan said. "I cannot say enough wonderful things about her and the work she does for NCCAT. There are a lot of wonderful things happening there!"
All this work led to a visit to Cullowhee Valley School, a school where McMahan previously taught, on April 10th by Mitchell and the Mountain Faith Band. Children in grades K–4 were given a book written by Mitchell "The Magician's Hat." McMahan's program donated journals to students in grades 5–8.
"Malcolm has written a book targeted for first graders. However he speaks to all ages with an encouraging message," Sandra said. "It is quite amazing to see such a dedicated young man use his platform to reach young children."
Whether it is joining forces with the "Read with Malcolm Foundation" or creating "I Write My Story Inc." with her family's band Sandra McMahan continues to use her platforms to inspire students to fulfill their potential and reach a successful path in life.
For more about "I Write My Story Inc." please visit: http://www.iwritemystory.org/
For more about "Read With Malcolm" please visit: https://www.readwithmalcolm.com/
About NCCAT
Increasing teacher effectiveness is fundamental to improving public education. NCCAT provides teachers with new knowledge, skills, teaching methods, best practices and information to take back to their classrooms. For more information about NCCAT's professional development programs, visit www.nccat.org or call 828-293-5202.