News
Elevate Educators and Schools with NCCAT Professional Development in 2018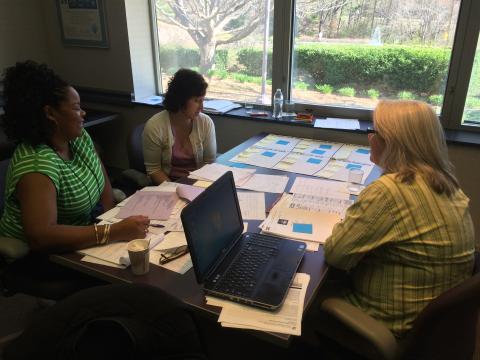 Act now to join NCCAT for high-quality educational, professional development in 2018.
The North Carolina Center for the Advancement of Teaching, a nationally recognized leader in teacher professional development, is offering teachers several programs for professional development to start out 2018.
NCCAT has identified and targeted professional development priorities for North Carolina educators. We solicited and listened to district curriculum leaders and teachers while incorporating state legislation and licensure updates when determining our programming this year.
Teachers can select programs covering a variety of topics such as Early Grades Literacy, Digital Learning, Teacher Leadership, Beginning Teacher Support and Reaching Reluctant Readers.
"I was so impressed with how all the teachers bonded and share ideas and experiences," Carrie Franklin, a teacher at Glenwood Elementary School in McDowell County said. "I will stay connected to these people for a lifetime."
Below are some of the upcoming programs at NCCAT in 2018!
14582     Developing Engagement and Understanding in Middle Grades Math
February 12–15: Cullowhee
During the middle-grade years, students transition from concrete to abstract understandings. Developing understanding, not simply rote memorization of concepts, is imperative in these grades. Learn how to create contexts for math concepts that lead students to deep understandings of the why and how of middle grades standards. We will use the new NC Standards, which will be implemented in 2018–2019. Explore the multiple avenues you can use to create lessons that require students to persevere in problem solving while culminating understanding throughout the lesson progression. Learn creative ways to manage your math class so re-teaching can take place for individualized instruction, and formative assessment can happen routinely. Develop a differentiated math classroom that engages students of all skill levels in lessons and activities that create meaning and application.
14586     Technology Tools to Enhance STEM
February 19–22: Cullowhee
The study of STEM—science, technology, engineering, and math—stimulates children to think critically and problem solve. STEM skills are crucial to building workforce readiness. Purposeful integration of tools found in the workplace can make STEM learning more authentic and relevant. Explore various types of technology and tools that can be incorporated into these existing lessons to make them even better. Maximize classroom time by integrating technologies that can make data collection and analysis easier. Experience lessons that give students a desire to ask questions and engineer solutions. Various technologies will be explored including Vernier sensors, coding software, design software, 3D printers, web 2.0 resources, mechatronics and more. Join us as we make messes, break things, fix things and create minds-on STEM learning environments.
14588     Multicultural Issues in Children's Literacy
February 26–March 1: Cullowhee
Designed for teachers in grades 4–8.
Our public schools are encountering a multicultural diversity challenge. Minority students (and all students) need to see positive verbal and visual images of children like themselves in the books they read. When children see themselves in books, they are motivated to read more books and read more often. It can increase self-esteem and make them feel part of the larger society. Reading literature about people from other cultures can increase sensitivity to those who are different from themselves, improve their knowledge of the world, and help them realize that although people have many differences, they also share many similarities. Learn to identify and evaluate books and online literacy resources that you can use to build a positive multicultural classroom. Become familiar with grants and other sources you can use to acquire multicultural resources. We also will explore strategies for involving parents in multicultural literacy programs.
14592     Nonfiction Texts in Secondary ELA
March 5–8: Cullowhee
Through no fault of its own, nonfiction writing has earned a reputation as something to be suffered through. Consider, however, that the Oscar-nominated films Into the Wild; Girl, Interrupted; and Seabiscuit –to name only three—all began life in the bookstore on the nonfiction shelves. Great informational text can be just as compelling as great fiction. In this program, participants will examine a variety of literary nonfiction, from travel and nature writing to investigative journalism. They will learn how to employ such texts in their classrooms to increase student interest and support or extend their reading and writing skills. This program is recommended for secondary teachers.
14595     Using Data, Diagnosis, and Differentiation
March 12-16: Ocracoke
Designed for elementary grades teachers.
Many elementary literacy assessments group students and provide differentiated activities based on each student's needs. While this is extremely helpful, how do elementary teachers use data from assessments that don't provide this information? This program will provide support for you in your analysis of student data to diagnose strengths and weaknesses in your students. Gain understanding of Rates of Improvement (ROI) while you investigate the student needs in your classroom. Discuss literacy goals and objectives that are S.M.A.R.T.
Click here for more on how to apply to NCCAT.
About NCCAT
Increasing teacher effectiveness is fundamental to improving public education. NCCAT provides teachers with new knowledge, skills, teaching methods, best practices and information to take back to their classrooms. For more information about NCCAT's professional development programs, visit www.nccat.org or call 828-293-5202.