News
Explore How NCCAT Can Help You with Canvas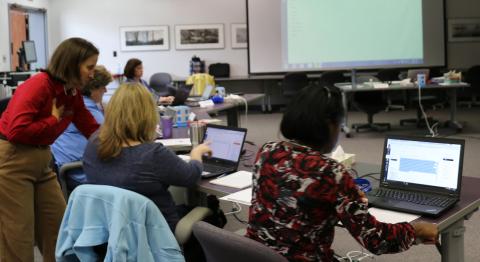 NCCAT certified instructor Elizabeth Joyce leads Canvas programs at NCCAT.
Canvas, North Carolina's Learning Management System (LMS), is your place for one stop learning and course management. Engage students by creating blended lessons using Canvas and a variety of Web tools by attending NCCAT. Canvas certified instructor Elizabeth Joyce teaches the courses.
"Canvas is a fabulous tool for educators," Davidson County Instructional Technology Facilitator Leigh Hopkins said. "There are many layers, and it is not something you can learn in a day. I feel like our first adopters benefited by coming to NCCAT and being able to learn from Elizabeth Joyce (NCCAT faculty member)."
Here are some upcoming Canvas Courses at NCCAT:
14431                        The Canvas Connection: Intermediate Users
August 14–17: Cullowhee
Designed for those that have participated in NCCAT's "Canvas Connections: Beginning Users" program or that have comparable intensive Canvas training.
14471                        The Canvas Connection: Beginning Users
October 16–19: Cullowhee
This program is designed for beginning users and will allow time to experiment, collaborate, and build at your own pace. Teachers will have a module or more ready to implement on returning to the classroom.
Click here for a complete list of NCCAT professional development programs.
About NCCAT
Increasing teacher effectiveness is fundamental to improving public education. NCCAT provides teachers with new knowledge, skills, teaching methods, best practices and information to take back to their classrooms. For more information about NCCAT's professional development programs, visit www.nccat.org or call 828-293-5202.