News
Flipping instruction without flipping out with NCCAT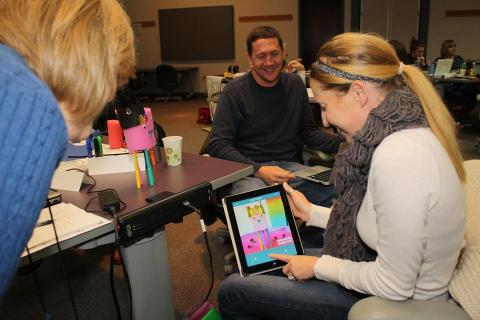 "Flipping Instruction Without Flipping Out: The Digital Learning Classroom" is one of several exciting programs offered this fall.
CULLOWHEE—"Schoolwork at home and homework at school" is one of the many definitions of a flipped classroom. Explore the history, styles, and benefits of flipping your classroom, including practical, hands-on ways to create, curate, and differentiate video content with the program "Flipping Instruction Without Flipping Out: The Digital Learning Classroom."
The program takes place in Cullowhee at the North Carolina Center for the Advancement of Teaching, a recognized national leader in professional development programming for North Carolina teachers.
With help from experienced teachers and educational technologists, each participant will identify what elements of their curriculum could be flipped and will have the opportunity to create a ready-to-roll video lesson with ideas for assessment and follow-up activities. We'll look at the possibilities created by flipping, including time for project-based and mastery learning. Come gain the confidence, tools and skills to flip your curriculum and create a more responsive, active, social, and creative classroom.
Click here for more on how to register.
About NCCAT
Increasing teacher effectiveness is fundamental to improving public education. NCCAT provides teachers with new knowledge, skills, teaching methods, best practices and information to take back to their classrooms. For more information about NCCAT's professional development programs, visit www.nccat.org or call 828-293-5202.