News
NCCAT Joins with Wake County Schools for Socratic Seminar Classroom Experience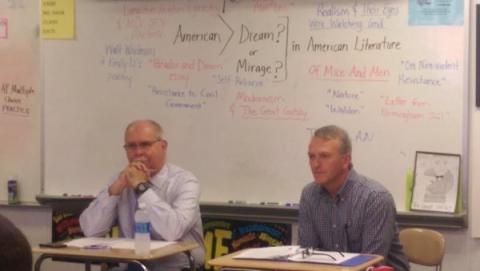 Wake County Public School System Superintendent Dr. James Merrill (left) and NCCAT faculty member Alton Ballance take part in a Socratic Seminar with 30 AP English III students at Apex High School.
Wake County Public School System Superintendent Dr. James Merrill, Apex High School, and the North Carolina Center for the Advancement of Teaching, a recognized national leader in professional development, joined together to provide an excellent discussion on the American Dream during a Socratic Seminar with 30 AP English III students.
Dr. Merrill and another former English teacher, NCCAT faculty member Alton Ballance, were part of the Socratic Seminar on April 13 for an hour and a half at Apex High School in Jessica Odom's English classroom. The Socratic Seminar is a formal discussion, based on common texts, in which open-ended questions are posed while participants suspend their biases in order to dialogue about, rather than debate, their ideas. Within the context of the discussion, students listen closely to the comments of others, thinking critically for themselves, and articulate their own thoughts and their responses to the thoughts of others.
"It was exciting to be in a classroom where the students were so well-prepared and engaged in multiple discussion topics centered around the American Dream," Ballance said. "It was also special to team up with Dr. Merrill for the entire period. I think we both felt an urge to be back in the classroom."
Apex High School Principal Diann Kearney said it was exciting to see a Socratic Seminar engaging students and she is happy that Ms. Odom has taken advantage of her time at NCCAT and brought it back to the classroom.
"I learned of Ms. Odom's NCCAT experience last fall after joining the Apex staff as principal. She shared that NCCAT not only challenged her thinking about her work as an English teacher but also renewed her enthusiasm for the art of teaching," Kearney said. "The Socratic Seminar is an instructional strategy that she uses regularly to afford students the opportunity to engage in deep thought and discussion about a specific theme, essential question, or connection to the texts in a setting that encourages open discourse. As a principal, it is exciting to observe students engaged in their education and to see direct evidence of their level of preparation and understanding of texts and authors. Ms. Odom is dedicated to providing a stimulating learning environment for her students and professional development opportunities, like her experience at NCCAT, sustain her ability to do so."
Dr. Merrill enjoyed the seminar.
"I did indeed enjoy the opportunity to work directly with the students at Apex High and with Alton Ballance. I'd like to thank the students for the engagement as well as Apex High and NCCAT for the opportunity," Merrill said.
About NCCAT
Increasing teacher effectiveness is fundamental to improving public education. NCCAT provides teachers with new knowledge, skills, teaching methods, best practices and information to take back to their classrooms. For more information about NCCAT's professional development programs, visit www.nccat.org or call 828-293-5202.