News
NCCAT Program Allows Pre-Kindergarten Teachers Opportunity to Collaborate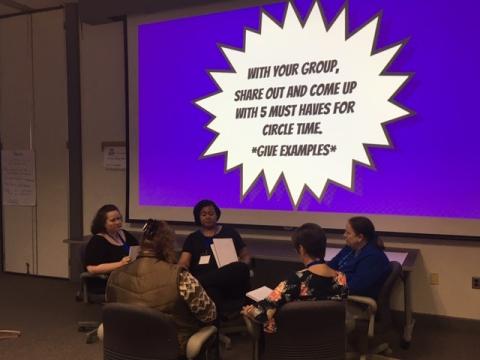 Participants in "NC PreK: Oral Language is Reading Readiness" developed schedules and procedures for growing a community of growth oriented young learners.
CULLOWHEE—Teachers from across North Carolina were able to explore aspects of daily schedule, classroom community, executive functioning, developmentally appropriate best practices, growth mindset and authentic assessment during "NC PreK: Oral Language is Reading Readiness" in Cullowhee Nov. 13–16.
In order to support children's success in early elementary grades, teachers need to understand best practices for developing young minds. Participants developed schedules and procedures for growing a community of growth oriented young learners. They practiced and viewed models of authentic assessment designed to support personalized learning for all readiness levels. Participants utilized new knowledge of executive functioning and developmentally appropriate practice to develop lessons that support choice and growth.
Teachers found the program led to several instructional outcomes:
"Every activity, article, and discussion provided me with wonderful skills and knowledge I can take back, not just to my room, but also to the entire school," Wanda Crips of Blue Ridge School in the Jackson County School System said. "For instance, the Personality Test will definitely be used at a faculty meeting. Reminders from articles about building community stirred all kinds of emotions. Some shared ideas like a read-aloud will be things I can use with my students."
Sandra Brown of South Elementary School in the Mooresville City School System found the setting of NCCAT a great place to discuss how to help children develop learning skills.
"The presenters were spot on and very knowledgeable," Brown said. "You could tell this was a well thought out program."
Chris Gray, a teacher at Pamilco County Primary School in Pamlico County Schools, said the presenters were extremely knowledgeable.
"The material was well-communicated and teachers were able to share with each other oral language routines in their classrooms," Gray said. "They were terrific at modeling and incorporated role play and pre-k scenarios during our time of learning."
Carteret County School teacher Renee Haire agreed.
"The team of presenters were clearly prepared, modeled teamwork, kept the pace moving, engaged all learners, made us laugh, involved participants in unexpected ways and utilized the strengths of the participants in novel ways," said Haire, who teaches at Beaufort Elementary School. "Please have them present a follow up for pre-k in Ocracoke. I think most of us would sign up for "Part 2" of this course, structured to present how we have incorporated back home in our classes what we learned here this week and what our next steps could be."
Being able to work together with peers with teachers who teach the same grade level was a great opportunity, said Christine Harriger, a teacher at Roland Norment Elementary in Robeson County Schools.
"The STEM element of oral language will for sure be used in my classroom," Harriger said. "I also liked the review of open ended questions and the talk strategy."
Presenters and staff for the program were: Darcy Grimes, Senior STEM Innovator at NCCAT; Libba Quinn, Instructional Facilitator, Asheville City Schools and Sandra Bowling, Senior Program Specialist at NCCAT.
About NCCAT
Increasing teacher effectiveness is fundamental to improving public education. NCCAT provides teachers with new knowledge, skills, teaching methods, best practices and information to take back to their classrooms. For more information about NCCAT's professional development programs, visit www.nccat.org or call 828-293-5202.