News
Teachers Talk About the #NCCATimpact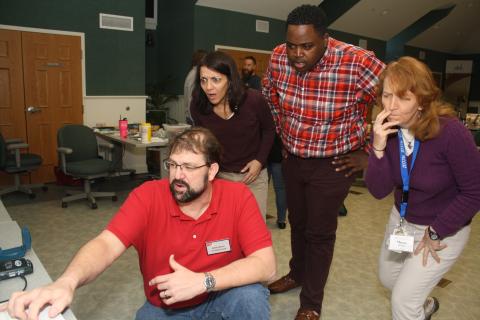 Teachers are sharing the impact of NCCAT on Twitter.
CULLOWHEE—Participants who took part in high-quality professional development at the North Carolina Center for the Advancement of Teaching,  a recognized national leader in professional development programming for teachers, are sharing about the experience on social media.
Teachers have been using the Twitter hashtag #NCCATimpact to share what they have done with NCCAT programs since they returned to the classroom.
Users of Twitters use hashtags to categorize Tweets by keyword. People use the hashtag symbol (#) before a relevant keyword or phrase in their Tweet to categorize those Tweets and help them show more easily in Twitter search. Clicking or tapping on a hashtagged word in any message shows you other Tweets that include that hashtag.
NCCAT makes an IMPACT in classrooms in North Carolina! Just ask these teachers who recently posted on Twitter.
Here are some Tweets by teachers who attend NCCAT.
So excited to be printing my first 3D creation. Flashback to @NCCATNews Maker Mindset! This is the lighthouse I designed!
@CMS_WingetPark #unite_create_innovate
Emily Warnke (@emily_warnke)
Trying out another tech tool I learned at NCCAT. Students loved it!
Suzanne Blackstock (@bstockhistory)
Already using Linoit in my classes today and my students are really loving it !!!!!! Thanks to all for the BEST NCCAT session last week #NCCAT4Cs
Lisa Lewis (@lisanealewis)
Follow NCCAT on Twitter @NCCATNews.
About NCCAT
Increasing teacher effectiveness is fundamental to improving public education. NCCAT provides teachers with new knowledge, skills, teaching methods, best practices and information to take back to their classrooms. For more information about NCCAT's professional development programs, visit www.nccat.org or call 828-293-5202.