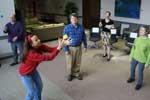 Register for 2014 NCCAT Literacy Festival
Teachers and school administrators looking for a way to make Summer Reading Camp have the same energy as a traditional summer camp can get help at the 2014 North Carolina Center for the Advancement of Teaching (NCCAT) Literacy Festival.
NCCAT, a national leader in professional development for teachers, is holding a Literacy Festival at the Cullowhee campus March 24–27. The event runs from 5:30 to 7 p.m. each evening. It is free and open to all area school teachers and administrators.
The series of activities each night will help schools make Summer Reading Camp more like camp and less like summer school. Read to Achieve, part of the Excellent Schools Act of 2012, requires current third-grade students in North Carolina public schools to pass the new End-of-Grade exam to be promoted. Students who do not pass the exam will be given an option to attend a summer reading camp or repeat the third grade.
"Each evening we'll learn a few activities and use them to teach or reinforce a particular literacy skill. For example, we might start by playing "sight word tag" with the group," said NCCAT Lead Fellow Deb Teitelbaum, who will be leading the Festival. "Sight words are high frequency words that students should not have to sound out. So, let's say we tape sight words to traffic pylons. An instructor calls out a word and students race individually to the correct word. They attempt to beat their own time with each successive turn."
Teitelbaum added: "After we introduce the activity, we will take time to discuss how we can adapt it for other uses. Some students may still be struggling to correctly identify letter sounds, so, instead of words, we might tape single letters to the pylons and call out a word that begins with one of the letters. The teachers will have ideas that we will use."
Participants are encouraged to wear comfortable clothes and shoes for what promises to be a fun and enlightening evening.
For more information about the 2014 NCCAT Literacy Festival or to let us know that you will be attending, visit www.nccat.org or contact Deb Teitelbaum, at 828-293-5202 ext. 1103 or [email protected].