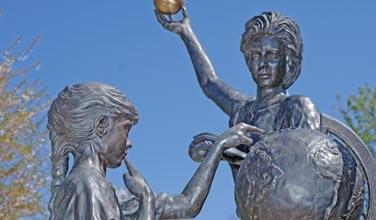 Dear Friends of NCCAT:
Each year more than a thousand educators participate in programs for professional learning at the North Carolina Center for the Advancement of Teaching (NCCAT). We believe that they find rich benefits in the programs—both for themselves and for their students—and that they are able to put the skills, information, and teaching strategies gained into play in the classroom.
If you find NCCAT of value, it is critically important that you contact your North Carolina Senator and Representative to request that they include funding for NCCAT in the state budget for 2014–2015. If they follow Governor Pat McCrory's recommended budget, NCCAT will be eliminated as of June 30, 2014.
If you choose to make this request, please also request that NCCAT be reclassified as a recurring part of the budget. We are currently placed into non-recurring funding and were slated for elimination in 2015, pending a review.
Things are moving rapidly. We need our supporters to contact their Representatives, now! Please be respectful of the fact that many members of the Senate and House are currently working to support NCCAT and simply need your reminder that their constituencies are, too.
We are committed to helping educators be successful in their work and hope to fulfill that mission for many years to come. Your advocacy at this time is essential; if you have found NCCAT to be an important resource for improving education in North Carolina, I hope you will take a few minutes to share your thoughts with your Senator and Representative.
The following links will help you find the contact information for the legislators in your district:
http://www.ncleg.net/gascripts/members/memberList.pl?sChamber=senate
http://www.ncleg.net/gascripts/members/memberList.pl?sChamber=House
We thank you for your support.
Richard L. Thompson
Executive Director
NCCAT
Cullowhee, NC 28723
[email protected]