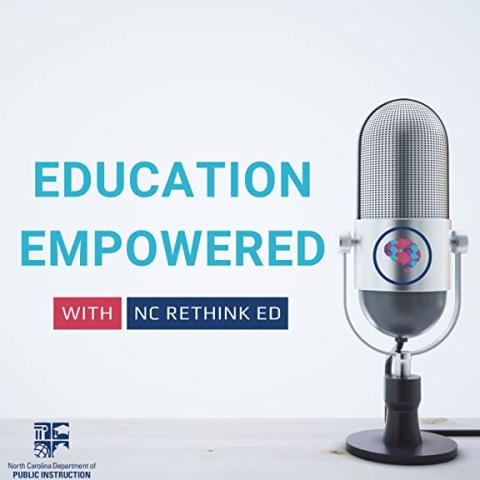 Did you know that NCRethinkEd has a podcast? You can access the NCRethinkEd podcast via Spotify, Google Podcasts, and Apple Podcasts from the main site.
The Dr. Catlin Tucker episode (Part 1) will be released soon. Check it out! Main link to the podcast: https://anchor.fm/ncrethinked
NCRethinkEd helps our school communities prepare to adapt and focus on what matters most: supporting the safety and success of North Carolina students, no matter the potential emergency or learning disruption. An initiative of the North Carolina Department of Public Instruction (NC DPI), Rethink Education is supported by a grant from the US Department of Education.
North Carolina Center for the Advancement of Teaching (NCCAT) faculty members Ms. Elizabeth Joyce and Dr. Mandy Taylor are part of an educational effort to lead the development of effective instructional approaches and content that teachers can use when schools must close for unforeseen disruptions, such as the COVID-19 pandemic. 
Under a $17.6 million grant from the U.S Department of Education, the North Carolina Department of Public Instruction's Rethink Education initiative is helping districts across the state prepare for any short- or long-term learning disruptions by developing plans tailored to the specific needs of their school communities. These partnerships are focused on improving blended learning, which combines face-to-face and online instruction, access, and content for students in grades K-8. Working across the state, Rethink Education is creating resources for rural and under-resourced communities as well as tools for families to support their children's learning.