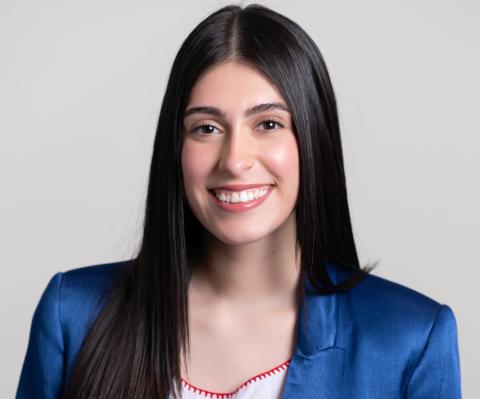 CULLOWHEE – Natalia Mejia, a teacher at CC Griffin STEM Middle School in Cabarrus County Schools, was named the North Carolina Center for the Advancement of Teaching (NCCAT) 2023 Empower NC Beginning Teacher of the Year in a special ceremony at the John W. Bardo Fine and Performing Arts Center on the campus of Western Carolina University Thursday March 9th.
The award was presented for the fourth time, with finalists from across the state in attendance.
This teacher prioritizes relationships and notes: "students will not understand why their teachers are trying to hold them accountable if they do not realize that you have their best interest at heart." This teacher believes it is extremely important for parents to be involved in their child's education and that successful teachers must prioritize getting to know others and building relationships. She experienced 100 percent growth of her students in her first year of teaching.
NCCAT is thankful for the opportunity to celebrate the teaching profession, according to NCCAT Executive Director M. Brock Womble.
"Educators like Ms. Mejia embody what it means to be a teacher. She is committed to teaching and inspires her students to learn," Womble said. "NCCAT salutes her and all the teachers being acknowledged at the NCCAT 2023 Empower NC Beginning Teacher of the Year Ceremony -- who are dedicated to the education and development of North Carolina's children. NCCAT is thankful for this opportunity to honor the teaching profession tonight. We appreciate all who made it possible."
The runner-up is Ms. Kirby Forbes, a Teacher at Lee County High School in Lee County Schools. This teacher is described as engaging and motivating. An administrator noted that this teacher breaks down the material to the smallest detail and then helps students build it back up to gain a complete understanding.
The 2023 NCCAT North Carolina Beginning Teachers of the Year finalists are:
Alexis Allred, Jackson County
Madison (Maddie) Baker, Catawba County
Ratasha Benton-Manley, Northampton County
Christian Boletchek, Roanoke Rapids
Izabella Botello, Iredell-Statesville
Karen Cardillo, Carolina Charter Academy
Jerico Carrillo, Guilford County
Katelyn Clarke, Pitt County
Breeana (Bree) Clayton, Henderson County
Jamie Conley, Brevard Academy
Kbira Filali, Pender County
Hannah Fitta, New Hanover
Kirby Forbes, Lee County
Samantha Fortner, Mitchell County
Kenna Gautier, Clinton City Schools
Emily Giardina, Chapel Hill Carrboro
Ariana Hunter, Rutherford County
Goodin Huss, Hoke County
Tonya McGill, Cumberland County
Natalia Mejia, Cabarrus County
Sabrina Moore, Mount Airy City
Gabe Patton, Johnston County
Darbie Rash, Ashe County
Nancy (Beth) Rose, Wayne County
Maria Sutton, Northeast Academy for Aerospace and Advanced Technologies (NEAAT)
Amber White, Rowan Salisbury
Carly Wright, Thomasville City Schools
The NCCAT Beginning Teacher of the Year will receive:
$5,000 cash prize
Participation for the winner in a GoGlobal NC trip in 2024
Instructional supply funds for the teacher's school
Runner-up
$2,000 cash prize
Finalists will receive.
Travel expenses and substitute costs for regional finalists to participate at NCCAT.
More information about the program is online at www.nccatbtoy.com.
Thank you to these sponsors of the event
Signature
Empower
Silver
Burroughs Wellcome Fund
Dr. and Mrs. Jim and June Causby
Connection IT
Harrah's Cherokee Casino
Bronze
Great Minds
LETRS
North Carolina State University College of Education Scholastic Education Solutions
Western Carolina University: College of Education and Allied Professions
95% Group
Patron
Appalachian State University Reich College of Education
Bojangles
Campbell Shately, PLLC
Edmentum
Pierce Group Benefits
Schwartz Law, PLLC
University of North Carolina Greensboro: School of Education
About NCCAT
NCCAT supports teachers and impacts students with high-quality professional development. Increasing teacher effectiveness is fundamental to improving public education. NCCAT provides teachers with new knowledge, skills, teaching methods, best practices, and information to take back to their classrooms. For more information about NCCAT's professional development programs, visit www.nccat.org or call 828-293-5202.