News
Summer Math Camp Returns to NCCAT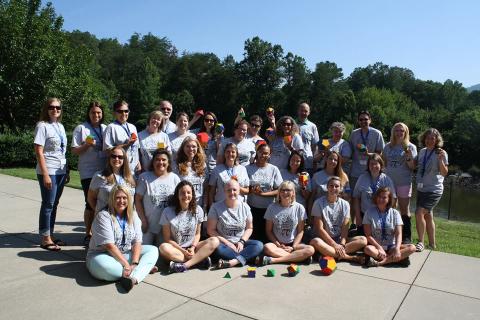 Summer Math Camp took place for the third time this July at NCCAT in Cullowhee.
CULLOWHEE—The Smoky Mountain Math Teachers' Circle (SMMTC), a professional learning community for mathematics teachers in Western North Carolina, gathered for its third annual Summer Math Camp July 10–14 at the North Carolina Center for the Advancement of Teaching.
Math Teachers' Circles are professional communities of K–12 teachers and higher education faculty who meet regularly to work on mathematics problems and informally discuss problems of practice. The vision of this group is to establish an encouraging, collaborative and non-competitive community of mathematics educators in Western North Carolina for the purposes of exploring rich mathematics tasks and encouraging personal, professional growth through fun and engaging experiences. A North Carolina Network of Math Teachers' Circles (NCNMTC), a statewide network of mathematics teachers and faculty, has also now been created.
There were two workshops: one for grades K–6 and another for 6–12. The program featured facilitators from Louisiana (Judith Covington from LSU–Shreveport) and South Carolina (Tara Craig and Anne Ho from Coastal Carolina University), as well as several WCU facilitators.
Western Carolina University faculty members Professor Sloan Despeaux and Associate Professor Nathan Borchelt of the WCU Department of Mathematics and Computer Science worked together to start this group.
For more information on joining the SMMTC or Math Circles, please contact Sloan Despeaux ([email protected]) or Nathan Borchelt ([email protected]).
About NCCAT
Increasing teacher effectiveness is fundamental to improving public education. NCCAT provides teachers with new knowledge, skills, teaching methods, best practices and information to take back to their classrooms. For more information about NCCAT's professional development programs, visit www.nccat.org or call 828-293-5202.