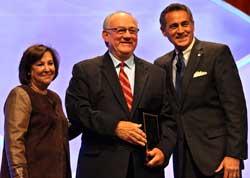 North Carolina Center for the Advancement of Teaching (NCCAT) Interim Executive Director Dr. Richard L. Thompson was honored, along with two other educators, by the American Association of School Administrators (AASA), Friday (Feb. 14), with a Distinguished Service Award. A ceremony to recognize these individuals was held at AASA's Conference on Education in Nashville, Tenn.
The honorees are being recognized by AASA for bringing honor to themselves, their colleagues and their profession; rendering exemplary service to their state or national professional association; and contributing to the education field through writing, public advocacy or other activities.
Thompson has been serving as interim executive director of NCCAT since Sept. 1. NCCAT continues its work impacting students, supporting teachers and responding to state initiatives. The center is focusing on Early Grades Literacy and Digital Literacy programming this year. Thompson is no stranger to NCCAT; he served as the center's director from 1992–94.
"The children of North Carolina have been the beneficiaries of this outstanding professional development program at NCCAT for our teachers," Thompson said.
Thompson has had a distinguished career in public education for 45 years, highlighted by his time as a classroom teacher, coach, principal and superintendent. He also has served as the state superintendent of education in Mississippi, North Carolina deputy state superintendent, and was a vice president in the University of North Carolina General Administration.
Other AASA Distinguished Service Award honorees for 2014 are:
Benny L. Gooden who is the superintendent of schools in Fort Smith, Ark., a position he has held since 1986. He has served in public education for 48 years as a teacher, administrator and school superintendent.
Dennis Ray who has served in educational leadership roles in a career that spans five decades, including six school districts over a period of nearly 30 years.
AASA, The School Superintendents Association, founded in 1865, is the professional organization for more than 13,000 educational leaders in the United States and throughout the world. AASA's mission is to support and develop effective school system leaders who are dedicated to the highest quality public education for all children.
"I want to thank AASA for this honor and the important work the organization does on behalf of education," Thompson said.