News
Happy Teacher Appreciation Week from NCCAT!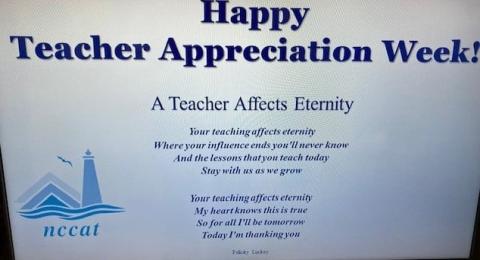 Thank you teachers for all you do!
NCCAT appreciates all teachers do every week and especially this week - Teacher Appreciation Week. Thank you North Carolina teachers for always being their for students. We see you and we are thankful for you. We're here to help! Visit and signup for our programs at https://bit.ly/38Lqcvc
About NCCAT
Increasing teacher effectiveness is fundamental to improving public education. NCCAT provides teachers with new knowledge, skills, teaching methods, best practices and information to take back to their classrooms. For more information about NCCAT's professional development programs, visit www.nccat.org or call 828-293-5202.