News
Instructional coaches professional development from NCCAT
276 NCCAT Drive, Cullowhee 28723
Published on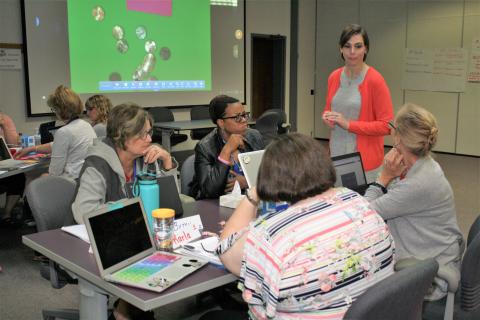 NCCAT Focus Friday program features instructional coaches professional development on September 20th.
Instructional Coaches join NCCAT on September 20th from 9 a.m. to 3 p.m. in Cullowhee to learn about supporting teachers with instructional practices in your schools. This one-day professional development "14975: Focus Friday - Coaching Instructional Initiatives" will focus on best practices for implementing instructional initiatives, and strategies for leading professional learning communities that empower teachers.
PLC frameworks and innovative adult learning practices will be explored that encourage collaboration and put teaching and learning at the forefront. Lodging and meals are provided.
This professional learning is designed for NC instructional coaches and lead teachers.
The Focus Friday programs offer teachers the opportunity to look into a variety of topics while at NCCAT,  a recognized national leader in professional development programming for teachers, for a day. Come be a part of NCCAT's daylong professional development session. Breakfast and lunch is included. A limited number of rooms are available if you need to arrive the night before. 
To apply, click here.
About NCCAT
Increasing teacher effectiveness is fundamental to improving public education. NCCAT provides teachers with new knowledge, skills, teaching methods, best practices and information to take back to their classrooms. For more information about NCCAT's professional development programs, visit www.nccat.org or call 828-293-5202.