News
Interactive website of resources available from NCCAT BTOY Group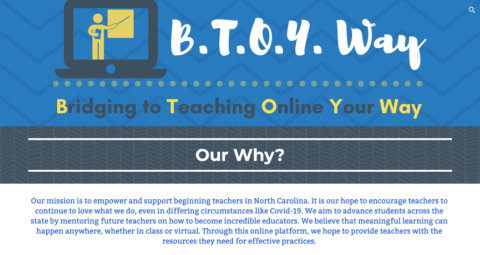 Nervous about next school year? Check out this interactive website for teachers to use this upcoming school year.
Assisted by NCCAT faculty member Darcy Grimes, last year's NCCAT Beginning Teachers of the Year finalists collaborated recently to discuss distance learning teaching and how to help new teachers cope with the uncertainty of what the upcoming school year will look like.
The result was an interactive website for new teachers. Full of K-12 resources, this website is a hub for best practices in virtual learning. Visit the website at
https://bit.ly/BTOYway
.
Leanne Rose, a second-grade teacher at Park View Elementary School in the Mooresville Graded School District, was named the North Carolina Center for the Advancement of Teaching (NCCAT) Beginning Teacher of the Year in a special ceremony Thursday, December 5, 2019.  The award was presented for the first time at the NCCAT Cullowhee Campus with finalist from across the state in attendance.
NCCAT will present the award again this year in February at the Culllowhee campus.
About NCCAT
Increasing teacher effectiveness is fundamental to improving public education. NCCAT provides teachers with new knowledge, skills, teaching methods, best practices and information to take back to their classrooms. For more information about NCCAT's professional development programs, visit www.nccat.org or call 828-293-5202.