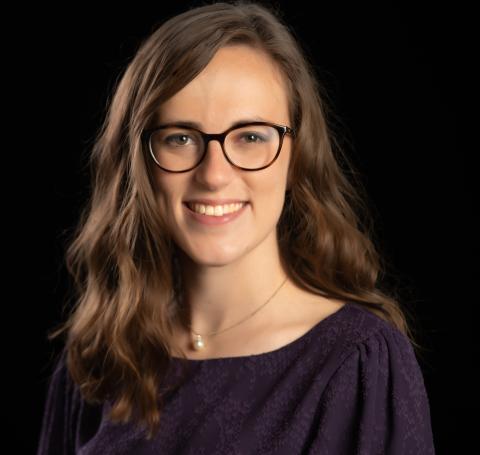 CULLOWHEE –  Emilee Higdon, a High School English teacher at Union Academy of Macon County Schools, was named the North Carolina Center for the Advancement of Teaching (NCCAT) 2021 Prudential NC Beginning Teacher of the Year in a special ceremony at the Liston B. Ramsey Regional Activity Center on the campus of Western Carolina University Thursday, April 15, 2021.
The award was presented for the second time with finalists from across the state in attendance.
Higdon was described as a beacon of positivity. Her principal noted: her unrelenting courage to embrace opportunities to help her students grow makes her an ideal example of a leader.  A student said her style of communication makes the learning process feel more collaborative. The classroom works together as a group and she hears what each of student has to say.
"I am proud of all our finalists and happy for Ms. Higdon and her school district," NCCAT Executive Director M. Brock Womble said. "NCCAT is a long-time supporter of teaching excellence, and a natural expression of that support is to recognize the best of the beginning teachers in our state. We've had a wonderful week of professional development and then an inspirational evening to celebrate our state's teachers."
The runner-up is Robin Mehler, who teachers fourth and fifth grades at Lucy S. Herring Elementary School in Asheville City Schools. This teacher's goal is to help students feel comfortable in their own skin, feel capable, and feel prepared and brave.  She is described as an energetic and motivational teacher.
The other 2021 NCCAT North Carolina Beginning Teachers of the Year finalists are:
- Alexandra Allen, Wilkes County Schools
- David Babb, Clover Garden Schools
- Angela Baker, Richmond County Schools
- Laura Beirne Mulligan, Davie County Schools
- Sarah Bowman, Johnston County Public Schools
- Charlcy Carpenter, Cleveland County Schools
- Deanna Ciampa, Wilson County Schools
- LaKeia Colquitt, Guilford County Schools
- Imani Cooper, Weldon City Schools
- Megan Frager, Envision Science Academy
- Dessie Greene, Brunswick County Schools
- Schala Harper, New Hanover Schools
- Shanice Hill, Henderson County Public Schools
- Kate Horne, Thomasville City Schools
- Rebekah Lee, STARS Charter School
- Dalton Lewis, Ashe County Schools
- Alessandra Nysether-Santos, Pitt County Schools
- Makenna Pate, Rowan-Salisbury Schools
- Megan Piland, Northampton County Schools
- Tanesha Revels-Epps, Scotland County
- Kimberly Joy Robinson, Union County Public Schools
- Meredith Sumrell, Harnett County Schools
- Kelly Thigpen, Newton-Conover City Schools
- Michael Villanueva, Wake County Public Schools
- Sequita White, Clinton City Schools
Guest speakers for the evening were: LeAnne Rose, NCCAT 2019 BTOY winner; Maureen Stover, North Carolina 2019 Teacher of the Year; and Catherine Truitt, North Carolina State Superintendent of Public Instruction.
The NCCAT Beginning Teacher of the Year process was developed to honor beginning teachers who are the future of education in North Carolina.  Information about the program is online at www.nccat.org/btoy
The NCCAT Beginning Teacher of the Year prizes include:
The award winner receives - $5,000 cash prize, Participation in a GoGlobal NC trip, Instructional supply funds for the teacher's school and a diamond bracelet from Diamonds Direct.
Runner-up receives - $2,000 cash prize
All finalists receive - Travel expenses to participate in NCCAT professional development and leadership development.
Sponsors:
Signature Sponsor: Prudential Retirement
Gold Sponsors: Dr. Jim and Mrs. June Causby
Silver Sponsors: Builder Services of NC, Diamonds Direct, Pierce Group Benefits, and Schwartz & Shaw, PLLC
Patron Sponsor: Campbell Shatley, PLLC