News
National Board Certification initial candidates work at NCCAT
276 NCCAT Drive, Cullowhee 28723
Published on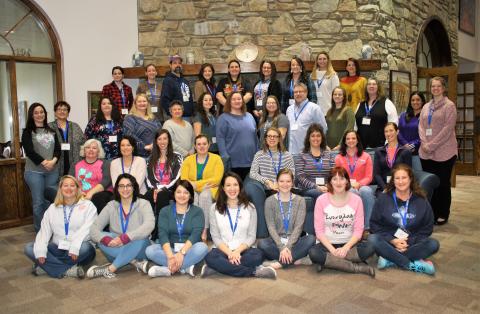 For June NCCAT professional develpment opportunities please visit https://www.nccat.org/news/nccat-opens-june-registration.
Initial National Board Certification candidates joined the North Carolina Center for the Advancement of Teaching (NCCAT) for a weekend of faciliated support and collaboration Feb. 21-23 in Cullowhee.
The participants worked on components two–four of their National Board certification submission. Participants were expected to have a draft of at least one component prior to attendance. Best practices for completing components were shared.
NCCAT is a recognized national leader in professional development.
Future National Board Certification sessions will be announced at www.nccat.org and on NCCAT social media. For questions please contact Teacher Services at 828-293-5202 or [email protected].
About NCCAT
Increasing teacher effectiveness is fundamental to improving public education. NCCAT provides teachers with new knowledge, skills, teaching methods, best practices and information to take back to their classrooms. For more information about NCCAT's professional development programs, visit www.nccat.org or call 828-293-5202.