News
NCCAT alumna earns Music Teacher of Excellence honor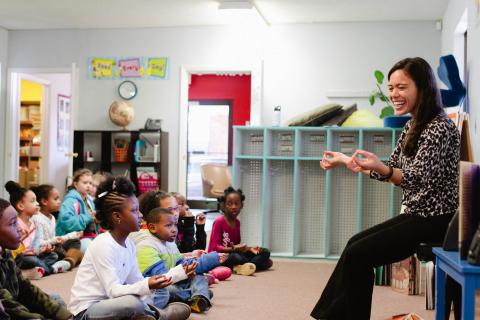 Maurice to be honored Oct. 19 at Music Teachers of Excellence Awards ceremony in Nashville.
This week, the CMA Foundation recognized NCCAT alumna and Hidden Valley Elementary (Charlotte-Mecklenburg Schools) music teacher Margaret Maurice as a 2022 Music Teacher of Excellence. Margaret, an NCCAT Honored Educator Scholarship recipient, is one of 30 nationwide recipients and the only North Carolina honoree. This award recognizes educators who have the greatest impact on their students. 
The CMA Foundation will officially kick off the CMA Awards season on Wednesday, October 19, holding its sixth Music Teachers of Excellence Awards in Nashville. Along with a night of celebration and recognition, the CMA Foundation will also invest $150,000 total to all of this year's recipients. Half of each teacher's investment will go toward their classroom needs and music programs, and the other half will support professional development and personal expenses in an effort to continue driving commitment, motivation and retention in music education."
NCCAT is very proud of Margaret Maurice. Thank you to her for all she does for education in North Carolina.
Read more at https://bit.ly/3waUu2H
About NCCAT
Increasing teacher effectiveness is fundamental to improving public education. NCCAT provides teachers with new knowledge, skills, teaching methods, best practices and information to take back to their classrooms. For more information about NCCAT's professional development programs, visit www.nccat.org or call 828-293-5202.