News
NCCAT Hosts EdCamp for Area Educators
Cullowhee, North Carolina
Published on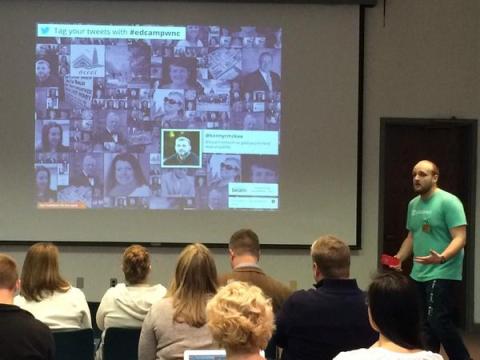 James Frye, an English teacher at Newton-Conover City Schools, told participants the first rule of EdCamp is to talk about EdCamp. Teachers used social media platforms like Twitter to share the experience with others.
CULLOWHEE—More than 92 educators applied to take part in EdCamp WNC, Nov. 14 on the campus of the North Carolina Center for the Advancement of Teaching, a national leader in professional development.
EdCamps, which began in 2010, are not like a traditional conference with a set schedule determined months ahead of the event. This professional development model has an agenda that is created at the start of the event by the participants to fit their needs. Participants are encouraged to attend sessions that are best for them.
For EdCamp WNC, there were four sessions from 9:30 a.m. to 2:30 p.m. addressing 16 topics from classroom management to coding. Teachers from across North Carolina attended the event. It was the first EdCamp event NCCAT has hosted. Fifty-four educators attended the event, which was able to be held despite some weather concerns.
"NCCAT is very excited to be a partner with teachers who are seeking to use technology in dynamic ways," NCCAT Director of Programming Jonathan Wade said.
EdCamp WNC was planned by North Carolina educators James Frye, Ashley Hurley, Darcy Grimes, Jayme Linton, Jessica Luby, David Schouweiler and others.
According to the EdCamp website there have been more than 500 EdCamps held. Others coming up in North Carolina include:
• EdCamp Queen City, Saturday, Feb. 21, from 8 a.m. to 3 p.m., in Charlotte. For more information visit: https://www.eventbrite.com/e/edcampqc-edcamp-queen-city-tickets-12670466707.
• EdCamp Rowan, Saturday, March 7, from 9 a.m. to 4 p.m., in Salisbury. For more information visit: http://www.eventbrite.com/e/edcamprss-edcamp-rowan-tickets-13366237777.
For more about what took place at NCCAT, visit this archive of tweets by participants from EdCamp WNC: https://storify.com/jaymelinton/edcampwnc-1?awesm=sfy.co_pohj&utm_medium...
About NCCAT
Increasing teacher effectiveness is fundamental to improving public education. NCCAT provides teachers with new knowledge, skills, teaching methods, best practices and information to take back to their classrooms. For more information about NCCAT's professional development programs, visit www.nccat.org or call 828-293-5202.