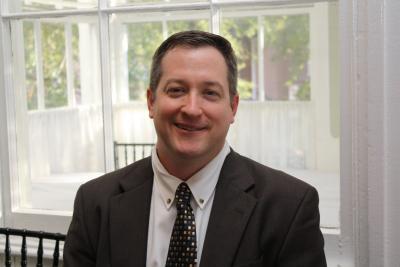 The North Carolina Center for the Advancement of Teaching continues to respond to the state initiative of improving digital learning with the appointment of a Senior Digital Learning Specialist.
Dr. Jonathan D. Wade of Cullowhee has been selected for the post in order to increase and expand digital learning opportunities for North Carolina teachers through NCCAT. Wade has been working to advance training in pedagogically effective technology since he joined the staff at NCCAT as a Center Fellow and has continued work in digital learning as a faculty member, course developer, and program manager during his tenure as Lead Center Fellow and Director of Programming at NCCAT. This move will allow him to focus his efforts more fully on opening up opportunities for digital learning to even more teachers in North Carolina.
"I'm excited by the opportunity to serve the teachers and students of North Carolina in this way," Wade said. "I have always had a great interest in promoting the best uses of technology in instruction, and am convinced that digital learning is an important way to multiply the most wonderful things about our public school systems while increasing personalization for students in a way that will help them achieve their best possibilities."
Wade, who joined the faculty of NCCAT as a fellow in 2005, was promoted to lead fellow in 2010, and director of programming in 2013. Prior to joining NCCAT, he worked at Abilene Christian University in Abilene, Texas, as an assistant professor of English and honor studies (2000–2005), assistant director of the honors program (2003–2005) and adjunct online instructor of distance learning (2005–2011). Earlier work included teaching college-level English, composition and rhetoric at universities in Alabama, North Carolina and Texas.
"Jonathan has demonstrated strong leadership skills in his former roles at NCCAT," said NCCAT Executive Director Richard Thompson. "It is exciting for us to see him move into this new role to help NCCAT advance educational priorities of the state through high-quality professional development."
Wade is married to Jodie Wade, a family nurse practitioner at Western Carolina Pulmonary in Sylva. They have two children attending Jackson County Public Schools: Anne, 16, and Nathan, 14.