News
Teachers Collaborate and Share During NCCAT Math Program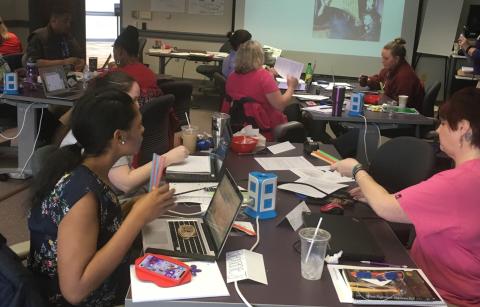 This program offered multiple opportunities to collaborate and to understand more clearly the correlation of math standards across grade levels.
CULLOWHEE—Teachers explored creative, classroom-friendly activities to build mathematical fluency during "Task, Tools, and Talk to Support Math Literacy in the Upper Elementary Grades" at the North Carolina Center for the Advancement of Teaching, a recognized national leader in professional development programming for teachers.
North Carolina teachers took part in the four-day program led by Western Carolina University associate professor of mathematics Kathy Jaqua. Teachers engaged in a series of tasks to enhance their content knowledge and explored a variety of mathematical tasks and games that align with the North Carolina Standard Course of Study for upper elementary grades.
Teachers appreciated the way they were challenged during the program.
"The presenter allowed us to struggle and that was helpful," said Beth Rushing of Union Academy Charter School. "We need to let kids struggle because that is where a lot of learning happens. I think the bigger the struggle, the bigger the reward. We weren't struggling to understand the concepts, it was more a struggle to be all in and complete the work. I think kids would be attracted to and learn from that no matter if they liked math or didn't. It was beneficial."
Darell Grimes, a teacher at Wilburn Elementary in Wake County, agreed.
"It was a very valuable experience," Grimes said. "You had to think outside the box and use critical thinking. To have to step outside yourself and find ways to solve problems yourself and as a group, was truly priceless. And we were provided with different tips about how to appeal to different levels of students."
Presenter Jaqua said teachers working through those struggles during professional development help them identify and understand even greater what students go through.
"They get to experience what is like for their students to work through a difficult concept and do it successfully," Jaqua said. "Everything we did is connected with the state standards they are expected to deal with in their classrooms. They had to work through problems themselves and as a group. It was exciting to see them talking together throughout about how they could use this information in their classrooms to help students."
Teachers said they already had plans to keep the learning and collaboration going after the week ended.
"We have created a Google Docs that we will share with each other to make it easier to keep in touch," said Tomika Altman-Lewis of Elizabeth Seawell Elementary of Chapel Hill-Carrboro Schools. "By being here with each other, we found out about ideas and shared ideas that are working for students in schools."
About NCCAT
Increasing teacher effectiveness is fundamental to improving public education. NCCAT provides teachers with new knowledge, skills, teaching methods, best practices and information to take back to their classrooms. For more information about NCCAT's professional development programs, visit www.nccat.org or call 828-293-5202.