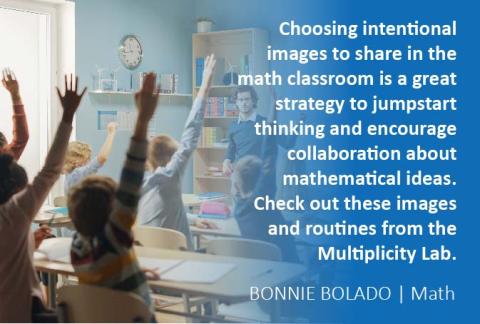 Choosing intentional images to share in the math classroom is a great strategy to jumpstart thinking and encourage collaboration about mathematical ideas. Check out these images and routines from the Multiplicity Lab.
Tip from Chief Academic Officer Dr. Bonnie Bolado. Dr. Bolado moved into the role of Chief Academic Officer after serving as NCCAT Senior Math Specialist since 2018. She came to NCCAT after holding a variety of positions in education and serving as a professional development presenter for various educational organizations. In her previous position Bolado served as assistant principal of Canton Middle School in Haywood County. Bolado also served as a math and science teacher in Haywood, Jackson and Onslow counties.
Upcoming NCCAT professional development programs below. Click link to view monthly calendars and apply!
CLICK HERE FOR OCTOBER SCHEDULE
CLICK HERE FOR NOVEMBER SCHEDULE
CLICK HERE FOR DECEMBER SCHEDULE