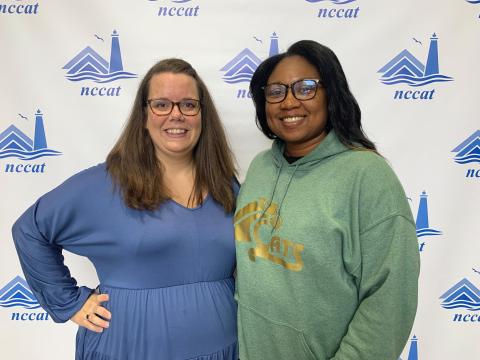 Brittany Williams, a sixth grade math teacher at Southeastern Randolph Middle School in the Randolph County School System, has received the Lynda Petty NCCAT Honored Scholarship.
This scholarship honors the late Lynda Petty, who dedicated her life to improving public education for the children of Randolph County. Mrs. Petty, known as the "First Lady of NASCAR," supported the Randolph County community in many ways, but most commendably, she served as a local leader in education. During her lifetime, Lynda served as a school volunteer, and, from 1984 to 2000, served as a member of the Randolph County Board of Education including taking on the role as its Chairperson for seven years. NCCAT's Lynda Petty Honored Educator Scholarship pays tribute to her lifelong commitment to the teaching profession.
Ms. Williams attended the NCCAT program Empowering Math Learners in the Middle Grades Classroom in Cullowhee. She is pictured with NCCAT Senior Math Specialist Emily Myers.
For more on the NCCAT Honored Educator Scholarship program please visit https://bit.ly/2DwXXOp