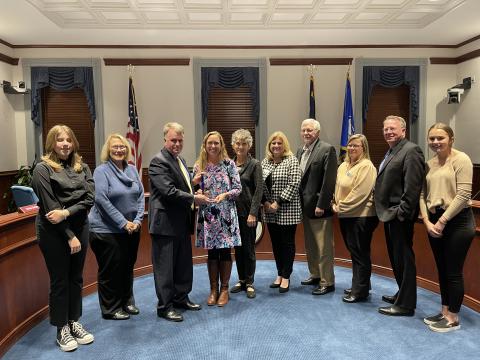 The North Carolina Center for the Advancement of Teaching was honored to be part of recognizing the first NCCAT Career & Technical Teacher of the Year Missy Swain of Currituck County Schools at the Currituck County Board of Education meeting Thursday evening to honor her and the important work Currituck CTE does for students and families.
Ms. Swain is the Agriculture Education teacher at Currituck County High School. A group of Ms. Swain's FFA students were present for ceremony as were NCCAT Executive Director Dr. M. Brock Womble, NCCAT Deputy Executive Director Dr. Karen Sumner and NCCAT Development Assistant Emily Langdon.
Congratulations to Ms. Swain the amazing 24 finalist from our first NCCAT CTE Teacher of the Year. Planning for next year's event is underway and we greatly appreciate all these teachers and all that all North Carolina teachers do for students and families across our state.
More on this year's event at https://bit.ly/3EIaXRm