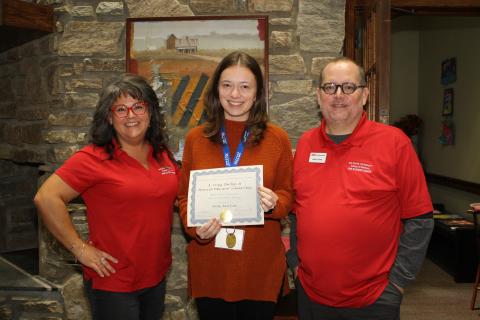 Kelly Anderson,  a teacher at Lakeshore Elementary School in Iredell-Statesville Schools  received the A. Craig Phillips II NCCAT Honored Scholarship recently during a professional development program at the North Carolina Center for the Advancement of Teaching (NCCAT).
Ms. Anderson attended "Shifting from the Sage on the Stage to the Guide on the Side in the Science and STEM Classroom" in Cullowhee led by Michelle Benigno and Jason Carter of the The Science House at North Carolina State University, who are also in the picture. Great job Ms. Anderson!
This scholarship was established in honor of Dr. A. Craig Phillips who served as State Superintendent of North Carolina for twenty years from 1968–1988. He instituted state-supported kindergarten for all North Carolina children. The A. Craig Phillips Honored Educator Scholarship pays tribute to the legacy of an outstanding North Carolinian who spent his life finding ways to strengthen administrators, empower teachers, and motivate parents to support education for all children. 
For more information on NCCAT Honored Educator Scholarships visit https://bit.ly/2DwXXOp