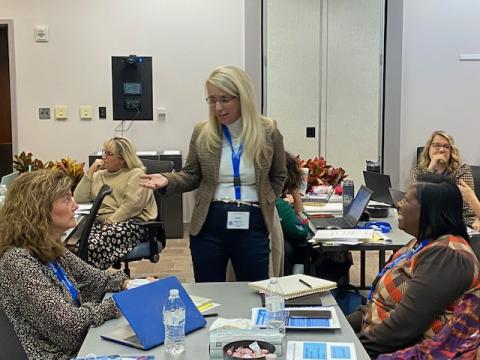 More than 80 educators from across North Carolina attended the second North Carolina Center for the Advancement of Teaching (NCCAT) Literacy Leaders Conference in Cullowhee Nov. 30-Dec. 2, 2022.
The three-day conference featured general session presenters, breakout sessions and collaboration to help Literacy Leaders take steps to support literacy instruction in North Carolina.
Presenters and topics included:
Annual Growth – Catch Up Growth – Connecting the Dots: Amy Rhyne, Director of Office of Early Learning, NCDPI and Kelley Bendheim, OEL Implementation Coordinator, NCDPI
Leading Instructional Change: Kimberly Vaught, Principal of Allenbrook Elementary in CMS
After Dinner Story Time with Lester Laminack: International Author and Professor Emeritus at WCU
Write Now: Getting Real With Literacy in the Secondary Classroom: Dr. Rebecca Harper, Literacy Professor
Student-Focused Coaching: Helping Every Teacher Succeed: Dr. Jan Hasbrouck, International Researcher and Author
LETRS PLC Process: Mary Derfel and Kelly Pratt, OEL Consultants, NCDPI
"Every session of this conference provided something I can take back to our district and take action to help students," said Karen Binns of Randolph County School.