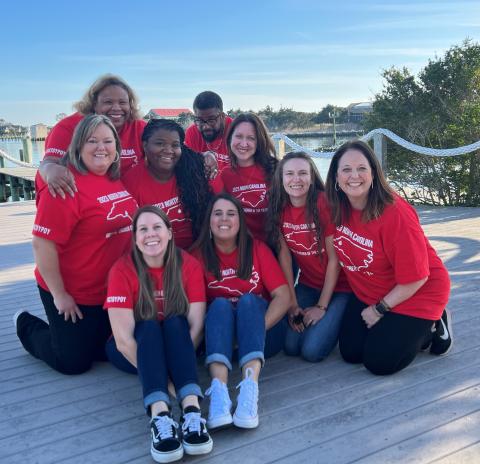 NCCAT again proudly presented the "Teacher Leadership Institute: Teacher of the Year" program in Ocracoke on Feb. 6-10. North Carolina's 2023 Teachers of the Year were invited to join us in examining educational leadership and positive responses to institutional change. This group spent hours in sessions discovering how to continue their growth as educational professionals. Topics covered included ways to apply their understanding of the dynamic nature of teaching and learning to engage colleagues in challenging conversations to develop appropriate solutions to address persistent issues in North Carolina's PK-12 classroom.
Teacher Leadership Standards
Standard I:

Teacher leaders demonstrate leadership.

Standard II:

Teacher leaders support an environment that is respectful of a diverse population of educators.

Standard III:

Teacher leaders incorporate adult learning strategies and effective teaching/learning practices as they implement change.

Standard IV:

Teacher leaders facilitate the growth and development of educators.

Standard V:

Teacher leaders engage in and facilitate reflective practice.
NCCAT Faculty/Staff/Presenters
Karen Sumner, Deputy Executive Director, NCCAT, Cullowhee
Lena O'Neal, Program Specialist, NCCAT, Ocracoke
Alton Ballance, Educational Consultant, Ocracoke
Leah Carper, 2022 NCTOY, Guilford County Schools
Jeremy Gibbs, NCDPI Regional Director
Elizabeth Santamour, 2022 Sandhills Region TOY, Hoke County Schools
Keegan Storrs, 2022 Charter TOY, Roxboro Community Charter School
Ryan Mitchell, 2022 Western Region TOY, Henderson County Schools
Ashtyn Berry, 2022 Southwest Region TOY, Cabarrus County Schools
Blair Rhoades, NCDPI, Director of Communications