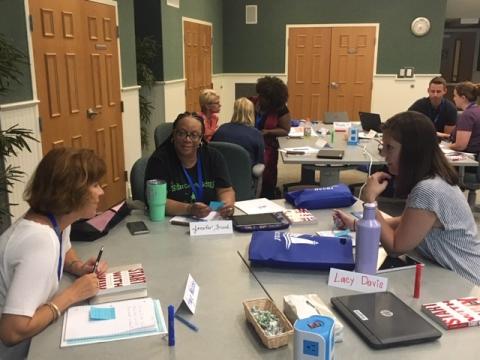 Make plans to join NCCAT for three exciting STEM Professional Development programs in April and June. NCCAT's instructional programs reflect the broad range of unique professional development topics for public school teachers and other educators. Challenging formats, combined with professional learning communities, shape the NCCAT offerings. All programs incorporate state standards.
Bringing Learning to Life Through Movement, April 24-27, in Cullowhee - A wealth of research supports the hypothesis that physical activity can boost comprehension, retention, and self-regulation in students of all achievement levels. Teachers who build movement into their lessons have students who are more engaged. Teachers will learn various strategies for integrating instruction with physical activity, but not at the expense of intellectual rigor. Armed with a collection of techniques you can use immediately, design and create your own physically and mentally active lessons. This session is designed for teachers in grades K-12.
The Maker Movement, June 12-16, in Cullowhee - The Maker Movement empowers colleagues to become inventors, engineers, and designers. A current trend in education uses the Maker mindset to encourage students of all ages to build, design, program, solve problems, collaborate, and innovate. Learn to plan lessons that teach the Maker mindset and pull in content as diverse as engineering, reading, and math. In this hands-on session, you'll explore how to use Maker activities in your classroom to promote learning, foster engagement, and build innovation. Topics include: design, 3D printing, building, invention, robotics, programming, electronics, app smashing, and more! This program is suited for teachers in grades 3-12.
Supporting Engagement in the STEM Classroom, June 26-30, in Ocracoke - Engagement is key in the modern STEM classroom! This week-long session will explore high-yield, research-based strategies that support student engagement, rigor, and a deep understanding of STEM principles. Participants will have the opportunity to reflect on how the practices learned can be implemented in their classrooms. 20 Strategies in STEM by William Bender will serve as the foundation for this session.
Teachers are the reason NCCAT is here. To view all NCCAT programming visit - https://www.nccat.org/programs