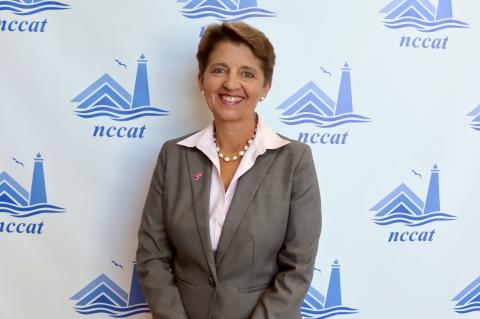 CULLOWHEE—Dr. Paula Pinkerton, formerly Director of Elementary and Intermediate Instruction in Buncombe County Schools and a veteran educator, has been named Chief Academic Officer at the North Carolina Center for the Advancement of Teaching (NCCAT).
Pinkerton has also served as Principal/Assistant Principal at William W. Estes Elementary School in Buncombe County, Teacher for Gifted & Talented Program at Oconee County School System in Georga, Adjunct Professor of Elementary Education at USC-Spartanburg, S.C., and Teacher of Gifted & Talented Program/Exceptional Children's Program Polk County.
In her new role, Pinkerton will be the administrative lead for the programming team for NCCAT, a nationally recognized leader in professional development. She will oversee NCCAT's programming faculty in designing and implementing offerings to provide the highest quality professional development for North Carolina public school educators in collaboration with faculty and staff.
"Dr. Pinkerton comes to us with various educational and professional development experiences," said NCCAT Executive Director Dr. M. Brock Womble. "We are excited that she is coming to NCCAT as the Chief Academic Officer to lead our professional development efforts."
Pinkerton is looking forward to being part of the NCCAT team that delivers professional learning to all school districts in the state of North Carolina.
"Joining the NCCAT team is very exciting, and I am looking forward to continuing the excellent work of providing quality professional learning opportunities for our teachers across the state," Pinkerton said. "Our work at NCCAT provides teachers with time for learning, collaborating, and reflecting on their learning. Providing excellent professional development is not only a great retention tool to keep high quality teachers in the classroom, but it is also a great way to provide these teachers an opportunity to renew their passion for the best profession in the world which is educating our students."
Pinkerton earned her Ph.D. and Ed.S. in Educational Leadership from Mercer University, M.Ed. Elementary Education at Converse College in Spartanburg, S.C., B.S. in Elementary Education from Mars Hill University, and is an alumnus of Buncombe County Schools – Enka High School.
NCCAT provides teachers with the knowledge, skills, teaching methods, best practices, and information to take back to their classrooms through high-quality professional development. The ultimate result is improved performance and achievement by North Carolina's students. For more than three decades, NCCAT has provided teachers with professional learning at campuses in Cullowhee and Ocracoke. NCCAT has expanded to online, school-based, regional, and district options. All are designed to support educators and student learning in North Carolina.