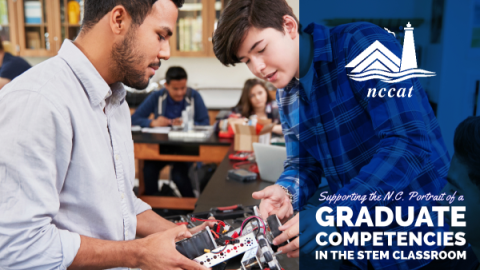 Join us for "Supporting the N.C. Portrait of a Graduate Competencies in the STEM" Nov. 27-30 in Cullowhee.
The North Carolina Portrait of a Graduate Initiative calls for students to not only acquire rigorous academic content, but also durable skills that will serve them as they enter the career or college of their choice. The Portrait of a Graduate Competencies include adaptability, collaboration, communication, critical thinking, empathy, learner's mindset, and personal responsibility. Each of these skills are necessary components of high-quality STEM education! Participants in this seminar will experience the Portrait of a Graduate Competencies within the context of STEM and will walk away with tangible strategies that can be quickly implemented in the STEM classroom!
This program is taught by NCCAT Faculty member Senior STEM Specialist Dr. Jennifer Redfearn. Dr. Redfearn has been an educator with Guilford County Schools for the past ten years, serving as a high school science teacher and central office administrator. She was recently honored with the Distinguished Service in Science Education in North Carolina Award from the North Carolina Science Teachers Association.