News
April, May and June NCCAT Registration Open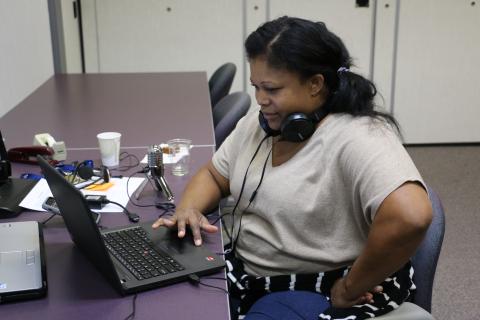 NCCAT models best practices for application to the classroom.
CULLOWHEE—North Carolina educators have several opportunities throughout  April, May and June to attend the North Carolina Center for the Advancement of Teaching (NCCAT), a recognized national leader in professional development programming for teachers.
Registration for these programs is open now. Applicants are encouraged to register as soon as possible to ensure a spot. Programs are available to North Carolina educators at the Cullowhee and Ocracoke campuses, online and with NCCAT fellows visiting school districts. For more information visit www.nccat.org.
A few of the programs offered are:
14379 • Reaching Reluctant Readers: Bringing Boys to Books – Cullowhee: April 3–6: The statistics are consistent: young male readers lag behind their female counterparts in literacy skills. In many instances, the reading scores of boys bring down the reading scores for the entire school. Explore the social, psychological, and developmental reasons why boys lag behind girls. Identify reading materials you can use in your classroom to capture and keep the attention of your struggling readers. Experience a variety of instructional methods such as text selection designed for boys, contests and competitions, focus reading groups, and the latest websites and blogs to boost literacy achievement. Discover solutions to capture the attention of reluctant male readers and examine strategies that motivate boys to sustain reading in the classroom and at home.
14389 • Reading for Meaning: The Role of Questioning – Ocracoke: April 24–27: Designed for teachers of grades K–5. Good readers ask questions before, during, and after reading to make sense of text. Questions provide the opportunity to interact with the text and figure out the deeper meaning of what is being read. How do teachers model good questioning strategies? How do teachers pose questions that foster critical thinking? What types of questions help readers understand confusing parts of a book? Learn how to use questioning strategies to enhance reading comprehension for all students.
14392 • Using Digital Resources to Support Career and Technical Education (CTE) Teachers – Ocracoke: May 1–4: It can be a struggle for career and technical education teachers to find appropriate resources to engage their students when designing their courses to fit the 16 Career Clusters and 79 related pathways that are a part of the CTE essential standards. Join CTE experts as we investigate digital resources, community partnerships, and strategies that provide enhanced instruction across the multiple curriculums in this field. Create lessons that enrich and extend these standards. Explore the policies and best practices of CTE education and how they can help launch students for success in a broad range of occupations and career specialties.
14399 • The Canvas Connection: Intermediate Users – Cullowhee: June 12–15: Teachers who are currently using Canvas in their districts will plan modules for an entire unit, design professional-looking content pages, create quizzes, and learn advanced grade book features. Teachers also will use the Canvas Calendar to create events in order to stay better organized. Teachers will learn how to populate the Syllabus, create Group Assignments, and design an ePortfolio for professional use.
For NCCAT's Calendar of April programs
For NCCAT's Calendar of May programs
For NCCAT's Calendar of June programs
For a full searchable list of NCCAT programs
About NCCAT
Increasing teacher effectiveness is fundamental to improving public education. NCCAT provides teachers with new knowledge, skills, teaching methods, best practices and information to take back to their classrooms. For more information about NCCAT's professional development programs, visit www.nccat.org or call 828-293-5202.