News
EdCampWNC Draws Record Crowd of 100 Educators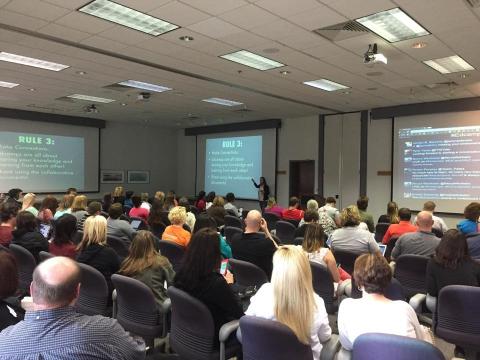 EdCampWNC will return to NCCAT in the fall. Check out www.nccat.org for information as it becomes available.
CULLOWHEE (April 25, 2016)—EdCampWNC continues to grow as a day of learning and sharing for educators. The fourth EdCampWNC drew the most participants of any previous event with 100 on April 23 at The North Carolina Center for the Advancement of Teaching, a national leader in professional development.
The attendance grew from 60 educators who attended in October. EdCamps, which began in 2010, are not like a traditional conference with a set schedule determined months ahead of the event. This professional development model has an agenda that is created at the start of the event by the participants to fit their needs. Participants are encouraged to attend sessions that are best for them.
Plans are being made for a fifth EdCampWNC. Please check out www.nccat.org for updates as they become available.
Educators shared throughout the day. Check out #edcampwnc on Twitter to follow discussions and see highlights from the day.
About NCCAT
Increasing teacher effectiveness is fundamental to improving public education. NCCAT provides teachers with new knowledge, skills, teaching methods, best practices and information to take back to their classrooms. For more information about NCCAT's professional development programs, visit www.nccat.org or call 828-293-5202.