News
First "Focus Friday" Held at NCCAT Offers Deep Dive into Dyslexia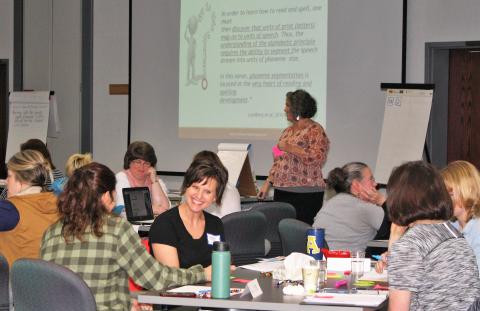 More "Focus Friday" one-day programs will be announced soon.
CULLOWHEE—The North Carolina Center for the Advancement of Teaching (NCCAT) hosted 41 teachers from across North Carolina for its first "Focus Friday" event on Feb. 23 in Cullowhee. Titled "A Deep Dive Into Dyslexia," participants were able to deepen their knowledge and expertise as it relates to awareness, instruction and assessment of students exhibiting difficulties in reading consistent with dyslexia.
Discussion for the day centered on the science of reading—why students experience reading difficulty—and the causes and characteristics of dyslexia and reading disabilities.
The program also explored the components of word-level reading difficulties including phonological awareness, decoding, encoding and sight word recognition related to dyslexia.
"It was very informational about a topic I thought I knew well before I came here," said Pauline Kerr, South Macon Elementary School teacher in Macon County. "This was great information I can take back to help children in my classroom and gave me a good idea of characteristics to be aware of with students."
Presenters for the day were Michelle Alcorn, exceptional children teacher in Rutherford County, and Carla Melton, Exceptional Children Lead Teacher for Haywood County Schools.
"I'm excited about what happened today," Alcorn said. "I loved watching them talk about dyslexia and their students and what they can do to help all children. It was a good day of learning and sharing."
Melton agreed.
"The setting here at NCCAT was perfect," she said. "People here were engaged, and they were here for a purpose."
More "Focus Fridays" are coming soon. Topics and dates will be posted at www.ncccat.org.
About NCCAT
Increasing teacher effectiveness is fundamental to improving public education. NCCAT provides teachers with new knowledge, skills, teaching methods, best practices and information to take back to their classrooms. For more information about NCCAT's professional development programs, visit www.nccat.org or call 828-293-5202.