News
Fontana Regional Library Annual In-Service Training at NCCAT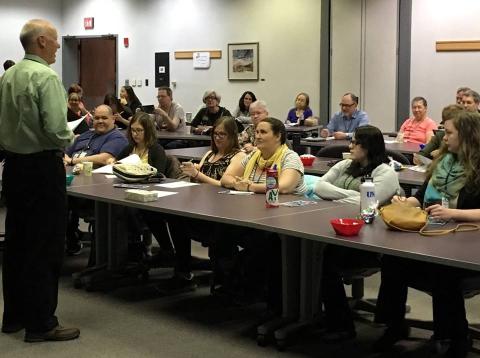 Fontana Regional Library spent the day at NCCAT in Cullowhee for annual in-service training.
CULLOWHEE (April 22, 2016)—Around 80 participants attended the Fontana Regional Library annual in-service training at the North Carolina Center for the Advancement of Teaching, a recognized national leader in professional development, on April 18.
The Fontana Regional Library serves the public in Jackson, Macon and Swain counties. The focus on the training was exploring and discovering the ways the Western North Carolina libraries can reach out to the community and better serve their needs.  The title of the training was "The Power of Libraries: Plugging into our Communities."
Topics included: The Future of Our Communities; Education, Health and Mental Health; Diversity, Employment and Connectivity. The program began at 8:45 a.m. with registration and concluded at 3:45 p.m. with closing ceremonies.
About NCCAT
Increasing teacher effectiveness is fundamental to improving public education. NCCAT provides teachers with new knowledge, skills, teaching methods, best practices and information to take back to their classrooms. For more information about NCCAT's professional development programs, visit www.nccat.org or call 828-293-5202.