News
Friday Institute and NCCAT Help Teachers Navigate Technology Options to Benefit Students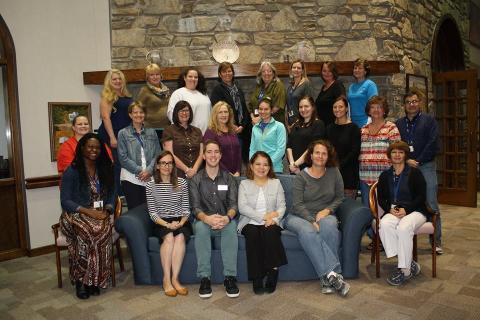 Teachers from around North Carolina took part in a joint professional development program by The Friday Institute and NCCAT in Cullowhee.
CULLOWHEE—During the program "4C-ing a Better Learning Experience: Technology and Tools To Transform Your Teaching" in Cullowhee Nov. 1–4, a group of North Carolina teachers engaged in professional development designed to make sure technology in the classroom is a powerful tool for students instead of something that happens to them.
The program at the North Carolina Center for the Advancement of Teaching, a nationally recognized leader in professional development, was a joint effort with The Friday Institute to provide interactive and personalized sessions about technology in the classroom. The week was led by Tavia Clark, research associate, and Greg Garner, design and computational thinking lead, from The Friday Institute.
"People were on different levels of technology coming in apparently, but all of us are leaving better than when we got here," said Patricia Frost, who teaches at Anson County Early College. "It is tough to find training like this that will improve you no matter what skill level you are at when you start."
Participants and presenters explored the 4Cs—Critical thinking, Communication, Collaboration and Creativity—along with digital tools that could help sound instructional strategies. These 21st-century learning skills seek to prepare students for the world they will need to succeed in.
"With all of the technology available it is important to know the purposeful intent and what you want this technology to do for you in the classroom," Clark said. "It helps to be in a setting like this where teachers can try out this technology and not worry about trying it for the first time in a classroom setting. It helps build confidence."
Garner agreed. "Two of the most important words for teachers to hear are 'me too,' " he said. "To be in the room with people that care about their practice and someone that empathizes with them, it is a big thing. Teaching can be lonely sometimes, so the opportunity to work with peers is critical. That type of collaboration helps teachers dream what is possible in the classroom."
Clark said that after sessions participants had the opportunity to debrief and work on solving problems that would make them more comfortable facing those issues when they return to their schools.
Both presenters were impressed with the teachers they worked with at the NCCAT campus.
"It was such a great week," Garner said. "All the participants dove in and were very thoughtful. They care about the kids in their classes. We worked from 9 a.m. until 8 p.m., and we had to push them to take breaks. One of the teachers rewrote an entire lesson plan one night after our work that day. They were all going way above and beyond what was asked. It was fun to be a part of."
Teachers left with concrete ideas they will try in the classroom and a network of colleagues to talk with about their efforts, said James Roa, a Midway Elementary School teacher in Sampson County.
"The sharing tools they showed us were fantastic," Roa said. "I am interested in the tools that Google offers. I appreciated the time to work through those and leaving here with other people I can talk with as I try these with my students. I am leaving this week with a much clearer picture of what I want and need to do with the technology that is available."
ABOUT FRIDAY INSTITUTE
The Friday Institute for Educational Innovation (fi.ncsu.edu) at the North Carolina State University's College of Education conducts research, develops educational resources, provides professional development programs for educators, advocates to improve teaching and learning, and helps inform policy-makers, all centered on innovations that will help prepare K–12 students for college, a career and citizenship in the global information age.
About NCCAT
Increasing teacher effectiveness is fundamental to improving public education. NCCAT provides teachers with new knowledge, skills, teaching methods, best practices and information to take back to their classrooms. For more information about NCCAT's professional development programs, visit www.nccat.org or call 828-293-5202.