News
Guilford County teacher receives NCCAT Honored Educator Scholarship
276 NCCAT Drive, Cullowhee 28723
Published on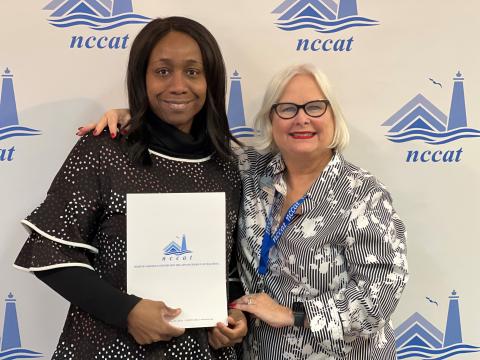 Teacher Freda Walker (left) and NCCAT faculty member Gin Hodge.
Congratulations to teacher Freda Walker of Guilford County Schools on receiving the NCCAT Guilford County Schools Honored Educator Scholarship. The scholarship helps fund - instruction and program materials, substitute teacher reimbursement, teacher travel, lodging and meals while on the NCCAT campus and $250 for classroom use. Great job by Ms. Walker who attended "Literacy Strategies for Specialist Teachers" in Cullowhee. She is pictured with NCCAT Faculty member Gin Hodge.
Thank you Ms. Walker for all you do and Guilford County Schools for supporting teachers who impact students.
NCCAT Honored Educator Scholarship applications will be accepted again in January. For more visit https://bit.ly/3rwca88
About NCCAT
Increasing teacher effectiveness is fundamental to improving public education. NCCAT provides teachers with new knowledge, skills, teaching methods, best practices and information to take back to their classrooms. For more information about NCCAT's professional development programs, visit www.nccat.org or call 828-293-5202.