News
Iredell-Statesville Teacher Credits NCCAT with Decision to Remain in Profession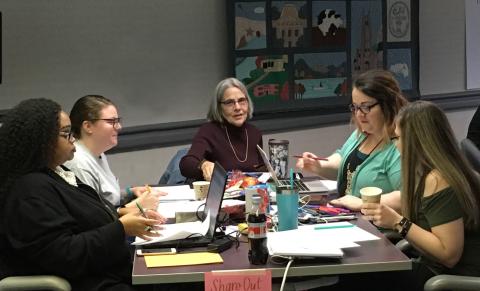 Erin Walle and other participants work during "Developing Engagement and Understanding in Middle Grades Math."
CULLOWHEE—Erin Walle believes things would have turned out very different if she hadn't attended the North Carolina Center for the Advancement of Teaching, a recognized national leader in professional development programming for teachers.
"In my second year of teaching I was done," Walle said. "I was a special education teacher and lateral entry and was having a hard time. My principal told me they have a program for new teachers at NCCAT and said I should go. I said, 'What are you talking about?' I looked it up and went. Once I was there I was like, 'Wow, I can do this! It is not scary. It is not awful. I can do this and make a difference.' It is only because of NCCAT that I'm in my 13th year of doing what I do."
Walle added, "I still have materials from that week and talk to people I met during that program. Having teachers talking with me while going through the same things was important, along with having instructors here at NCCAT tell us 'It is OK, you have got this.'"
Walle teaches at North Iredell Middle School in the Iredell-Statesville school system. She now teaches math. When she and colleague Kayla Everette were looking for professional development they were pleased to discover the program "Developing Engagement and Understanding in Middle Grades Math" was being offered by NCCAT.
"We were in a bit of slump getting through our curriculum, but after coming here we are ready to go for the rest of the year," Walle said. "We've already made a video we will use in class and shared and collected ideas with participants here. The collaboration and time are so helpful just like when I came to NCCAT before."
Those experiences are why Walle has no problem encouraging teachers to take part in NCCAT.
"This will change your career," she said. "Everyone here is so amazing and they make you feel like you matter. Teachers don't always get that. People here are constantly telling you that what you do matters. It's an amazing experience."
Click here for more on NCCAT upcoming programs.
About NCCAT
Increasing teacher effectiveness is fundamental to improving public education. NCCAT provides teachers with new knowledge, skills, teaching methods, best practices and information to take back to their classrooms. For more information about NCCAT's professional development programs, visit www.nccat.org or call 828-293-5202.