News
Join NCCAT in March or April!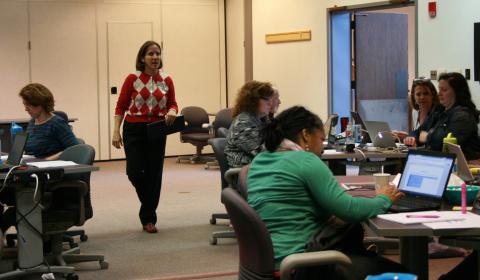 For information about applying to NCCAT please visit http://www.nccat.org/programs/application-instructions.
CULLOWHEE—High-quality teaching is important for student success. Explore elements of effective professional development and collaboration critical for growing and supporting great teachers by attending a North Carolina Center for the Advancement of Teaching program at the Cullowhee or Ocracoke campus.
NCCAT, a nationally recognized leader in professional development, covers lodging, meals and conference materials. Travel and substitute teacher cost are not covered. Act now to make sure you have a place in these programs.
March programs include:
"Teaching English I: Fresh Ideas for Freshmen," "Digital Citizenship," and "Technology Tools To Enhance STEM."
Click here for complete March schedule.
April programs include: "Taking the Angst Out of Testing," "Move It! The Physically Active Academic Classroom," and "The Canvas Connection: Beginning Users."
Click here for complete April schedule.
About NCCAT
Increasing teacher effectiveness is fundamental to improving public education. NCCAT provides teachers with new knowledge, skills, teaching methods, best practices and information to take back to their classrooms. For more information about NCCAT's professional development programs, visit www.nccat.org or call 828-293-5202.