News
Kenan Fellows Hold Summer Institute at NCCAT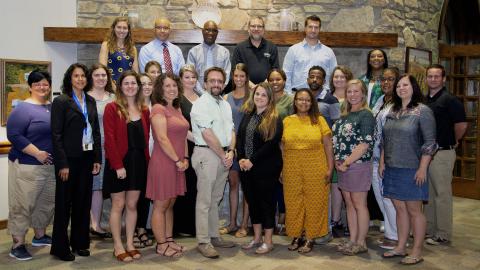 The 25 new Kenan Fellows began their year together at NCCAT on June 18–22.
CULLOWHEE—The Kenan Fellows Program from Teacher Leadership held its 2018 Summer Professional Learning Institute at the North Carolina Center for the Advancement of Teaching, a recognized national leader in professional development programming for teachers,
In May, 25 North Carolina public school educators were named 2018–19 Kenan Fellows. They were selected from an applicant pool of more than 70 educators following a competitive application process. The new Fellows began their year together at NCCAT on June 18–22.
The Summer Institute is one of two mandatory professional learning seminars for the 2018–19 Kenan Fellows. The second institute is scheduled in October in Raleigh. The institutes are planned by a committee of educators in the Kenan Fellows Alumni Network who also lead the majority of the sessions. Participants worked on several topics over their week at NCCAT including sessions on project-based learning, web tools for classroom management and student engagement and building leadership capacity.
"We identify and empower teacher leaders who want to grow their subject area knowledge and deepen their understanding of workforce skills to influence and motivate their students, peers and the broader community," said Dr. Elaine Franklin, director of the Kenan Fellows Program for Teacher Leadership and former Executive Director of NCCAT, when the fellows were announced.
The Kenan Fellows Program provides teachers with the opportunity to work in industry and research settings and supports the translation of their industry experience into an array of instructional resources that are then shared with their schools, districts, and communities.
Established in 2000 as an initiative of the Kenan Institute for Engineering, Technology & Science at N.C. State University, the Kenan Fellows Program addresses the critical need for high-quality professional development for educators and is the largest (science, technology, engineering, and math) STEM-focused teacher fellowship in North Carolina. Today, a highly respected network of more than 420 Kenan Fellows are working to improve STEM education state and nationwide.
Portions of this release are from the Kenan Fellows Program website: https://kenanfellows.org
About NCCAT
Increasing teacher effectiveness is fundamental to improving public education. NCCAT provides teachers with new knowledge, skills, teaching methods, best practices and information to take back to their classrooms. For more information about NCCAT's professional development programs, visit www.nccat.org or call 828-293-5202.