News
Kenan Fellows hold Summer Institute at NCCAT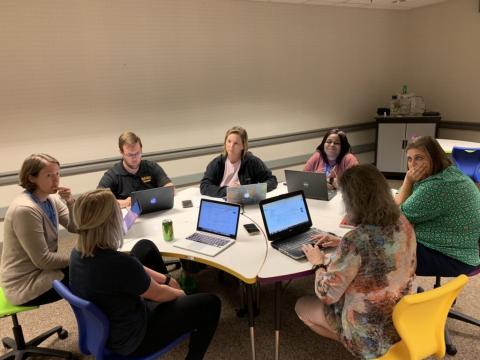 A variety of sessions took place during the Kenan Fellows Summer Insitite at NCCAT in Cullowhee.
CULLOWHEE—For the 12th year, the North Carolina Center for the Advancement of Teaching's western campus hosted the Professional Learning Summer Institute for the incoming cohort of Kenan Fellows from June 17-21.
The Kenan Fellows Program for Teacher Leadership, the largest (science, technology, engineering and math) STEM-focused teacher leadership program in North Carolina, is an initiative of the Kenan Institute for Engineering, Technology & Science at N.C. State University. The Program bridges the gap between K–12 education, industry and research by immersing teacher leaders in highly technical and/or locally relevant summer work experiences and supporting them as they design methods for transferring their "real-world" learning back to the classroom.
The Summer Institute at Cullowhee was the first for the Professional Learning Institutes for the 2019–20 Kenan Fellows cohort. 
Educators in the Kenan Fellows Alumni Network design and lead the institutes, which are an intensive professional development experience that explore issues related to educational leadership, integrated science, appropriate use of educational technology and applied ethics.Several former NCCAT alumni were part of the program, too.
About NCCAT
Increasing teacher effectiveness is fundamental to improving public education. NCCAT provides teachers with new knowledge, skills, teaching methods, best practices and information to take back to their classrooms. For more information about NCCAT's professional development programs, visit www.nccat.org or call 828-293-5202.