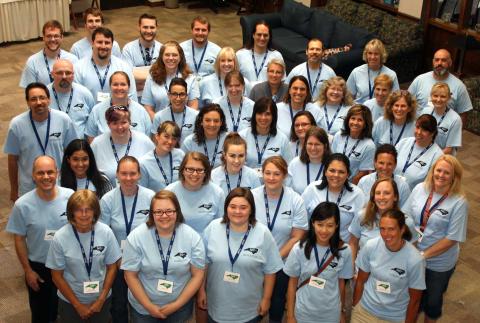 CULLOWHEE (July 7, 2016)—The Smoky Mountain Math Teachers' Circle (SMMTC), a professional learning community for mathematics teachers in Western North Carolina, gathered for its second annual Summer Math Camp June 26–29 at the North Carolina Center for the Advancement of Teaching.
Math Teachers' Circles are professional communities of K–12 teachers and higher education faculty who meet regularly to work on mathematics problems and informally discuss problems of practice. The vision of this group is to establish an encouraging, collaborative, and non-competitive community of mathematics educators in Western North Carolina for the purposes of exploring rich mathematics tasks and encouraging personal, professional growth through fun and engaging experiences. Sessions during the Math Camp included: Intro to Problem Solving, Soma Cubes, Geometry with Zometools, Geometry and Botany Scramble, Intersection Math, and Paper Math.
Fifty-two participants gathered for this year's workshop.  This included two nationally recognized guest facilitators. Joshua Zucker is from Menlo Park, California. He is the co-founder of the first Math Teachers' Circle at the American Institute of Mathematics in 2006. He is the founding director of the Julia Robinson Mathematics Festivals, which brings deep, collaborative problem solving to a wide range of students. Mark Brown is a professor of mathematics and mathematics education at MidAmerica Nazarene University (MNU) in Olathe, Kansas. Brown leads the Heartland Math Teachers' Circle and serves as a mentor for the MTC Network. There was some additional focus on assisting with the formation of two new Math Teacher Circles that have formed in North Carolina. The Blue Ridge Math Teacher's Circle (Buncombe, Henderson Counties) and the Central North Carolina Math Teachers' Circle (Salisbury).  A North Carolina Network of Math Teachers' Circles (NCNMTC), a statewide network of mathematics teachers and faculty, has also now been created.
Western Carolina University faculty members Professor Sloan Despeaux and Associate Professor Nathan Borchelt of the WCU Department of Mathematics and Computer Science worked together to start this group. Support for this summer workshop, SMMTC, and NCNMTC was provided by the North Carolina GlaxoSmithKline Foundation and the American Institute for Mathematics.
For more information on joining the SMMTC or Math Circles, please contact Sloan Despeaux ([email protected]) or Nathan Borchelt ([email protected]).