News
NCCAT Alumna Kara Ball Selected as National Teacher of the Year Finalist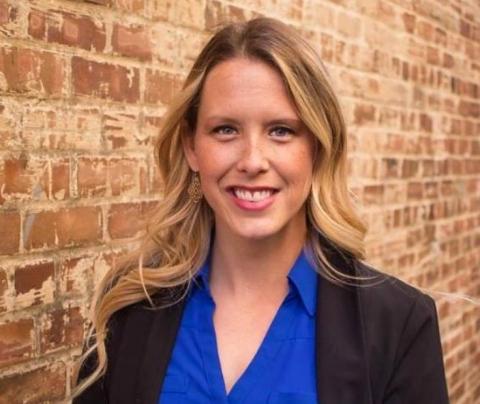 CULLOWHEE—Kara Ball, an alumna of the North Carolina Center for the Advancement of Teaching, has been selected as one of the four finalists for the the Council of Chief State School Officers (CCSSO) National Teacher of the Year.
Ball, a 4/5 grade teacher at DeLalio Elementary School teaches science, technology, engineering and math. She attended the program "Catching Up With Your Students: Digital Learning" at NCCAT in 2015. She is the 2018 Department of Defense Education Activity Teacher of the Year.
As a cultivator of curiosity, Kara Ball uses science, technology, engineering and mathematics (STEM) education and project-based learning to transform her elementary students into the leaders of tomorrow. Each year Kara brings sharks into her classroom and her students conduct a shark dissection. She also organizes a school wide Cardboard Arcade where students use the engineering design process (EDP) to work in teams to imagine the possibilities of a single cardboard box.
From http://www.ccsso.org: "Currently teaching military-connected students at Camp Lejeune for the Department of Defense Education Activity (DoDEA), Kara has taught multi-age, special education, STEM and advanced mathematics. She also has experience teaching in communities with large homeless and English as a Second Language (ESL) populations.
Kara is a National Board Certified Teacher who has served as a Mentor Teacher for eight years, District STEM coordinator, and U.S Naval Academy SET Sail STEM Team Leader. She is a member of DoDEA's Strategic Planning Committee and her school's Continuous School Improvement Team. In 2013 she was the recipient of the Shirley J. Lowrie Award from Montgomery County Public Schools, Md., honoring an exemplary elementary education teacher. In 2016, she was DoDEA's finalist for the Presidential Awards for Excellence in Mathematics and Science Teaching (PAEMST)."
Every year, exemplary teachers from each state, the U.S. extra-state territories, the District of Columbia and the Department of Defense Education Activity are selected as State Teachers of the Year. From that group, a national selection committee representing 14 renowned education and community organizations, which collectively represent millions of educators, selects four finalists for National Teacher of the Year. The National Teacher of the Year is then selected from the four finalists after rigorous in-person interviews with the selection committee.
Click here to read Ball's National Teacher of the Year application.
About NCCAT
Increasing teacher effectiveness is fundamental to improving public education. NCCAT provides teachers with new knowledge, skills, teaching methods, best practices and information to take back to their classrooms. For more information about NCCAT's professional development programs, visit www.nccat.org or call 828-293-5202.