News
NCCAT Executive Director Speaks at Appalachian State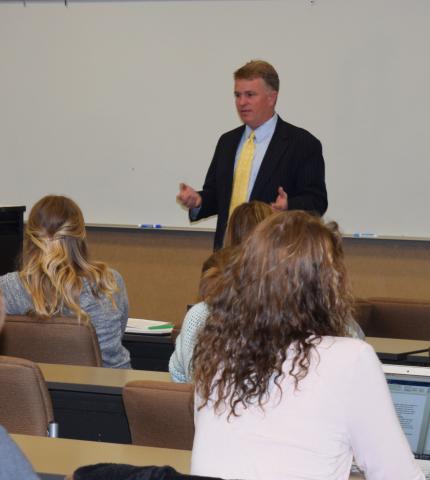 NCCAT Executive Director Dr. M. Brock Womble returns to his alma mater to speak at an educational conference.
BOONE—North Carolina Center for the Advancement of Teaching Executive Director Dr. M. Brock Womble spoke to about 100 alumni and pre-service teachers at the Appalachian State University Teacher Education Professional Development Conference on Nov. 11.
Womble, who is the seventh executive director at NCCAT, received his undergraduate degree from Appalachian State. More than 15 topics were covered during the conference that allowed students and colleagues to learn more about instructional practices, learning strategies, web tools and professional learning communities.
"I appreciate the opportunity to talk about NCCAT with this outstanding group at Appalachian State University," Womble said. NCCAT is a recognized national leader in professional development programming for teachers.
The event was the first professional development conference held by the Reich College of Education. Organizers plan to make it an annual event.
About NCCAT
Increasing teacher effectiveness is fundamental to improving public education. NCCAT provides teachers with new knowledge, skills, teaching methods, best practices and information to take back to their classrooms. For more information about NCCAT's professional development programs, visit www.nccat.org or call 828-293-5202.