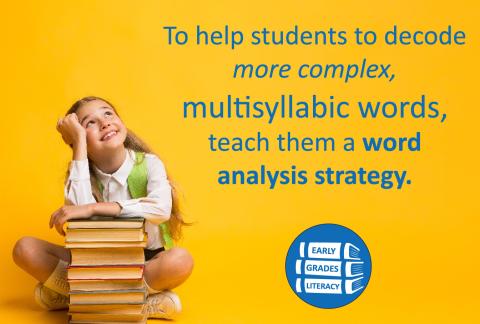 To help students to decode more complex, multisyllabic words, teach them a word analysis strategy. Click here to watch a video from the Institute of Education Sciences (IES).
This Early Grades Literacy Tips is from NCCAT Early Grades Literacy Specialist Gin Hodge.  Hodge helps support teachers in incorporating early grades literacy learning into their instruction. Hodge has been honored as Buncombe County Teacher of the Year in 2002. Her experience includes teaching kindergarten (Jackson County), first grade (Rutherford), and third and fourth grades (Buncombe County). Hodge has been an instructional coach for ten years with Buncombe County. She received her undergraduate and graduate degree from Western Carolina University. 
CLICK HERE FOR FUTURE NCCAT PROFESSIONAL DEVELOPMENT OPPORTUNITIES.