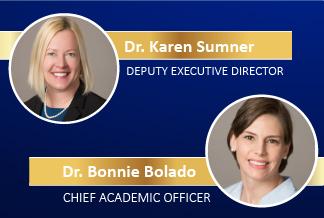 CULLOWHEE – Two experienced educators have new roles at the North Carolina Center for the Advancement of Teaching, NCCAT Executive Director Dr. M. Brock Womble announced.
Dr. Karen Sumner has been named NCCAT Deputy Executive Director, while Dr. Bonnie Bolado will move into Sumner's former role as Chief Academic Officer. NCCAT, a recognized national leader in professional development programming for teachers, served every school district in North Carolina with professional development last year.
"Both Dr. Sumner and Dr. Bolado share a commitment to positively supporting teachers and impacting students that will benefit North Carolina education," Womble said. "We appreciate their willingness to serve in these roles and we are excited about the continued forward direction of professional development at NCCAT."
Sumner has served as Chief Academic Officer at NCCAT since 2017. She came to NCCAT after a distinguished time as Elementary Coordinator for the Western Region Education Service Alliance (WRESA). Prior to that role she served as a Regional Educational Facilitator with the North Carolina Department of Public Instruction. She served as an Instructional Coach in Henderson County Schools after teaching high school English both there and in New Hanover County.
"I am honored and humbled to accept this role. Supporting NC educators is more critical now than ever before, and NCCAT is privileged to provide teachers with the skills, knowledge, and strategies to change the trajectory for all NC students," Sumner said.
Sumner earned her doctorate in Educational Leadership from Western Carolina University, her Master's degree in English Education from Wake Forest University and her B.A. from UNC-Asheville. Dr. Sumner is a proud NC Teaching Fellow who credits the scholarship and related opportunities with igniting her passion for statewide support of education.
Bolado moves into the role of Chief Academic Officer after serving as NCCAT Senior Math Specialist since 2018. She came to NCCAT after holding a variety of positions in education and serving as a professional development presenter for various educational organizations. In her previous position Bolado served as assistant principal of Canton Middle School in Haywood County. Bolado also served as a math and science teacher in Haywood, Jackson and Onslow counties.
"It is a privilege to work for NCCAT and serve the educators of North Carolina, who work tirelessly for our students every day," Bolado said. "I am excited to serve as NCCAT's Chief Academic Officer and look forward to continuing the journey of providing our teachers with the professional learning experiences worthy of their profession."
Bolado is a graduate of the University of North Carolina Wilmington, holds a Master of Educational Leadership from Gardner-Webb University, and a Doctor of Education degree from Gardner-Webb.
Building on three decades of high-quality residential professional development at the Cullowhee and Ocracoke campuses, NCCAT now also provides online, school-based and regional professional development all focused on enhancing student achievement. For more visit www.nccat.org.